2017 Review: PARP Inhibitor Update and Approvals
by Jody Barbeau PhD, December 7, 2017 at 02:45 PM | Tags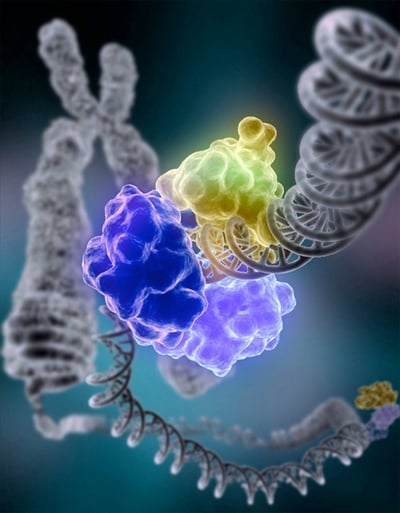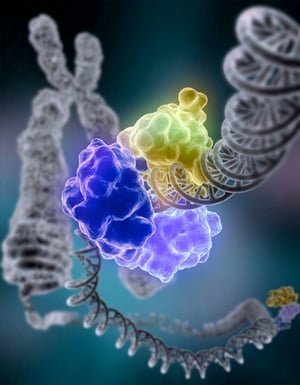 As the holiday season approaches, CrownBio is celebrating with a look back over the important research and scientific stories from 2017. Our Blog team are reviewing the top trends and news that were important to each of them over the last year.
First up I'm focussing on PARP inhibitors and the approvals and data updates which have come out this year.
PARP Inhibitors – A Long Road to Approval
DNA repair and PARP inhibitors are a favourite topic of mine – my PhD project looked at DNA-PK and PARP interactions in the Newcastle University lab which published one of the seminal PARP/BRCA synthetic lethality papers, during the very first PARP inhibitor clinical trial way back in 2003. I was also lucky enough to complete a couple of placements at KuDOS Pharmaceuticals, eventually bought out by AstraZeneca for their PARP program.
Following a long and rocky road to market, the first PARPi to be finally approved in 2014 was the AstraZeneca agent Lynparza® (olaparib) in ovarian cancer, with the other agents playing catch up. The 2016 ESMO conference saw a lot of fresh and exciting data presented on PARPi, which then set up 2017 as a great year for new approvals and indications.
Crowded Market for PARP Inhibitors in Ovarian Cancer
With 3 PARP inhibitors now approved over late 2016/2017 in ovarian cancer it's a jostle for market position, with the exact wording of indications proving important. While the first Lynparza approval was for patients with BRCA mutation following 3 rounds of chemotherapy, this was usurped by Rubraca® (the original Newcastle compound now in the hands of Clovis) with patients only needing 2 prior treatments.
Drug
Company
US FDA Approval
Indication
Lynparza (olaparib)
AstraZeneca
Dec 2014
Patients with deleterious or suspected deleterious germline BRCA-mutated advanced ovarian cancer who have been treated with three or more prior lines of chemotherapy
August 2017
Maintenance treatment of adult patients with recurrent epithelial ovarian, fallopian tube, or primary peritoneal cancer, who are in a complete or partial response to platinum-based chemotherapy
Rubraca (rucaparib)
Clovis Oncology Inc
Dec 2016
Patients with deleterious BRCA mutation (germline and/or somatic) associated advanced ovarian cancer who have been treated with two or more chemotherapies
Priority Review granted Dec 2017
Maintenance treatment for patients with recurrent epithelial ovarian, fallopian tube, or primary peritoneal cancer who are in a complete or partial response to platinum-based chemotherapy,
Zejula® (niraparib)
TESARO Inc
Mar 2017
Maintenance treatment of adult patients with recurrent epithelial ovarian, fallopian tube, or primary peritoneal cancer who are in complete or partial response to platinum-based chemotherapy

TESARO then found their drug approved as a maintenance treatment in March for all ovarian cancer patients, regardless of BRCA mutation, which opened up their potential target population in this indication and moved them to the top of the prescribing pile.
However, they were rapidly followed by Lynparza, with a matched, expanded maintenance therapy patient target group in August. Clovis also looking to follow suit in early 2018, with better results in the maintenance setting than its 2 rivals announced in September.
PARP Trapping and Talazoparib
The one agent that everyone is still watching through 2017 is talazoparib from Medivation, which has been billed as the potential best in class PARP inhibitor. The science behind the hype is that talazoparib has significantly greater potency in vitro (based on better PARP trapping on the DNA strand as well as straight forward catalytic inhibition) leading to better in vivo cell killing.
The "PARP trapping" aspect is interesting - PARP inhibition can take effect through either standard PARP inactivation (so single strand breaks aren't repaired), or by trapped PARP-DNA complexes, which may be the more effective at cell killing.
Therefore, the best PARP trappers may turn out to be the greatest cancer cell killers, and therefore we could see the best response rates in the clinic (meaning a preferred drug over the other approved agents). However, Medivation have gone down the breast cancer route making the comparison of results more difficult.
Talazoparib Potential First PARPi Approved for Breast Cancer
Phase II trial data presented in April at the ASCO Annual Meeting looked encouraging, in heavily pretreated germline BRCA+ advanced breast cancer patients. Patients who had previously responded to platinum-based chemotherapy and subsequently developed disease progression had a 21% ORR. A second group of patients who developed disease progression following at least three lines of non-platinum-based therapy had 37% ORR, with overall low discontinuation rates (4%) due to drug related adverse events.
The EMBRACA Phase III trial is now ongoing and fully enrolled in advanced and/or metastatic breast cancer patients with BRCA mutation, so this will carry to 2018 before results are known.
How will the AbbVie Agent Fair following 2017 Phase II Failures?
One further agent to mention is veliparib from AbbVie, which was the PARP inhibitor which didn't fair so well in 2017 clinical trials. AbbVie were taking PARP inhibitors back to their roots as chemopotentiators, with 2 Phase III trials in combination with chemotherapy in squamous non-small cell lung cancer and triple negative breast cancer.
These both failed to reach their desired primary endpoints in April and, while other late stage trials with the agent are ongoing, their Phase II results have also been "patchy".
What Next for PARP Inhibitors in 2018?
With the raft of approvals as late stage or maintenance treatments in ovarian cancer, 2 of the main questions in this indication are probably:
Is there a role for PARP inhibitors in the frontline setting?
Is there a role for PARP inhibitor treatment after a first PARP inhibitor?
There is also a potential for combination treatments, particularly with immunotherapies – niraparib is being trialed in ovarian cancer with pembrolizumab (anti-PD-1 therapy), as well as rucaparib being tested with nivolumab
In breast cancer, we are all waiting for the talazoparib results, along with data from the other already approved agents. The niraparib and rucaparib combination trials also include triple negative breast cancer patients.
Then there's other indications to think about, ongoing trials include:
Niraparib + chemotherapy in Ewing sarcoma
Rucaparib in metastatic castration resistant prostate cancer with specific gene alterations including BRCA, ATM and other HRD gene alterations
Olaparib + Wee1 inhibitor in solid tumors
With all of the ongoing trials and further approval expansion expected, after 2017, it could make 2018 another interesting year for PARP inhibitors.
---
Author
---