New Organoid Platforms for Oncology and I/O Drug Discovery at AACR-NCI-EORTC 2019
by Federica Parisi PhD, October 28, 2019 at 04:30 PM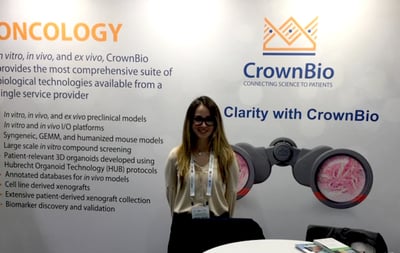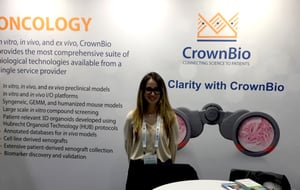 2019 has been an exciting year at CrownBio with the addition of organoid platforms to our portfolio of models and services. We're presenting our latest organoid progress updates with two posters at this year's AACR-NCI-EORTC meeting in Boston.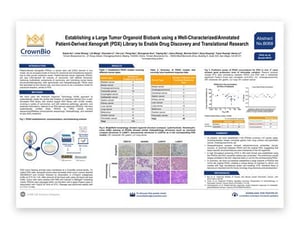 Our first poster presents the establishment and validation of a panel of PDX-derived organoids (PDXO). These are innovative 3D in vitro models that, much like our well-established patient-derived xenografts (PDXs), mimic patient tumor development with a cancer stem cell component and intratumor heterogeneity.
Poster B068 describes the successful establishment of more than 100 PDXOs from PDX, from over 10 different cancer types. The PDXOs have been developed using best-in-class standard operating procedures generated by the Clevers lab and further refined by Hubrecht Organoid Technology (HUB).
Development of PDX-Derived Organoids (PDXO)
The first panel of models preserve morphological, genomic, and pathophysiological features of their matched PDX. Most importantly their response to various standard of care therapies mimics the corresponding PDX response in vivo. This suggests that PDXO effectively predict PDX response and therefore help anticipate clinical response.
Moving forward, we're focusing our efforts on establishing the world's largest library of patient-derived models including PDX, PDXO, as well as patient-derived organoids (PDO) from HUB. This offers an unprecedented opportunity to drug developers to access patient-relevant in vitro organoid models for large scale screens, and then further validate their findings with matched in vivo PDX models.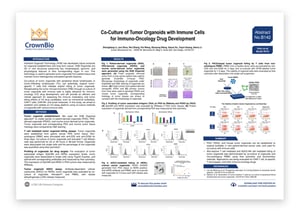 Our second poster describes the development of a co-culture system of tumor organoids and tumor-infiltrating lymphocytes (TIL). In this study, we effectively co-cultured tumor organoids with non-autologous PBMCs, triggering organoid tumor cell killing by allo-reactive T cell activation and ADCC-NK mediated effects.
Immunotherapies have revolutionized our approach to cancer treatment; however, traditional in vitro models don't reflect the complex in vivo interactions between immune cells and tumor cells. In vivo immunotherapy models are challenging to develop and often lack robustness and reproducibility.
A co-culture system of organoids and immune cells offers an interesting solution, harnessing the clinical relevance and robustness of tumor organoids and allowing expansion of tumor-specific T cells that mediate explicit killing.
This approach can be used assess the immune modulatory and tumor killing effects of various immunotherapies, and we're currently using it to evaluate CAR-T cells and bi-specific T cell engagers.
Read More on AACR-NCI-EORTC 2019
Read more on our poster updates on advances in in vivo oncology models and biomarker discovery platforms.

---
Author
---