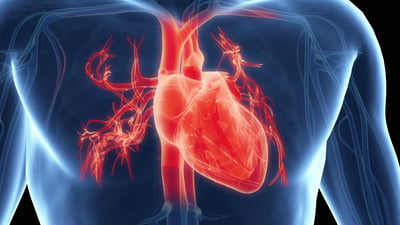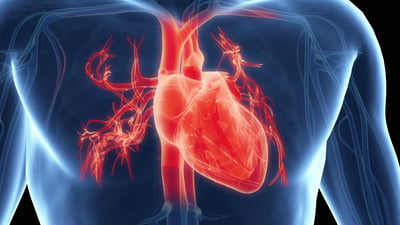 Our ADA presentations this year included a collaborative poster with Pegasus Bio. The studies used our unique panel of spontaneous diabetic NHPs to investigate whether FTY720 can improve cardiac function preclinically.
ADA Poster 1121-P: FTY720 Treatment Rejuvenates ß-Cell Function and Improves Cardiac Function in Diabetic Nonhuman Primates (NHPs)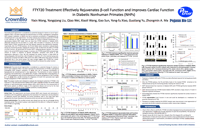 FTY720, also known as fingolimod (Gilenya®, Novartis), is an immunomodulating drug, mainly used to treat multiple sclerosis. It is a sphingosine-1-phosphate receptor modulator which sequesters lymphocytes in lymph nodes, preventing them from contributing to autoimmune reactions. Fingolimod also shifts macrophages to an anti-inflammatory M2 phenotype and can modulate their proliferation, morphology, and cytokine release.
Administration of FTY720 to db/db mice has previously led to sustained normalization of hyperglycemia by stimulating β-cell in vivo regeneration. Pancreatic β-cell regeneration is considered a possible therapy for type 2 diabetes (T2D).
To evaluate the therapeutic potential of FTY720 for T2D, the effects of FTY720 on glucose homeostasis has now been tested in a more translationally relevant preclinical model - spontaneous diabetic NHPs.
FTY720 Treatment of Diabetic NHPs
Fasting Glucose and HbA1c Levels
In diabetic NHPs (mean fasting glucose [FG] level of 249 mg/dL), FTY720 treatment significantly lowered FG and HbA1c levels in two weeks. After ten weeks of treatment, FG and HbA1c levels remained low and glucose tolerance was significantly improved.
FTY720 Treatment of Diabetic NHPs Effectively Lowers FG and HbA1C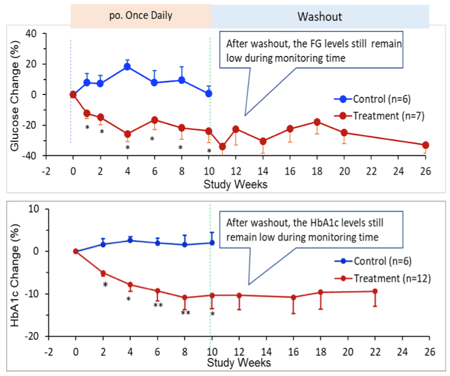 β-Cell Function Rejuvenation
Following glucose injection, insulin levels in control NHPs barely changed. In contrast, FTY720-treated NHPs secreted large amounts of insulin in response to glucose stimulation. This is consistent with the in vivo β-cell regeneration observed in mice.
FTY720 Treatment Rejuvenates Beta-Cell Function in Diabetic NHPs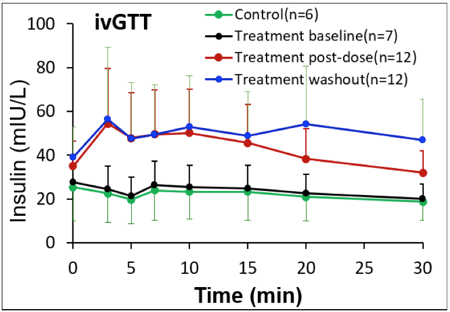 Cardiac Function
Cardiac function, ejection fraction (EF), and fractional shortening (FS), are abnormally lower in diabetic NHPs (EF=60% and FS=30%) compared to normal NHPs (EF=68% and FS=43%). However, after ten weeks of FTY720 therapy, EF in the treatment group increased from 60% to 70%. FS also increased from 30% to 38%, while both values remained abnormally low in the control group.
FTY720 Treatment Significantly Improves Cardiac Function in Diabetic NHPs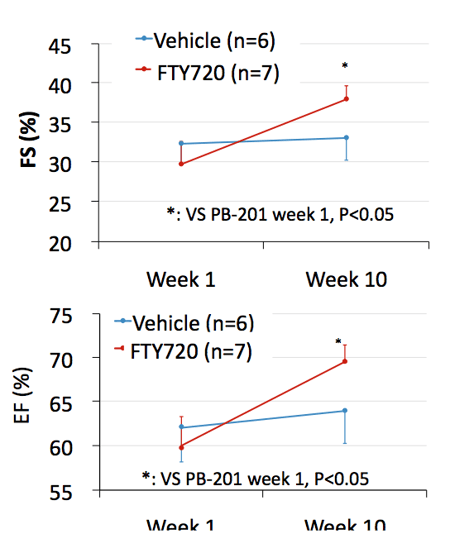 These data strongly suggest that FTY720 has great therapeutic promise for the treatment of T2D, while also improving cardiac function in patients.
More ADA 2018
Don't miss our other ADA 2018 posts to learn about using next generation rodent models to study cardiac dysfunction and immune cell response.
---
Author
---