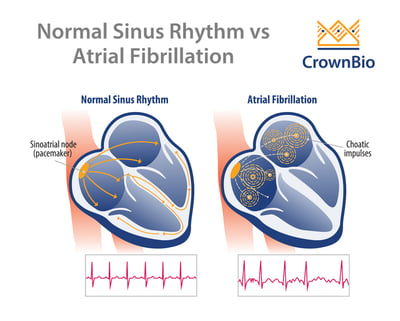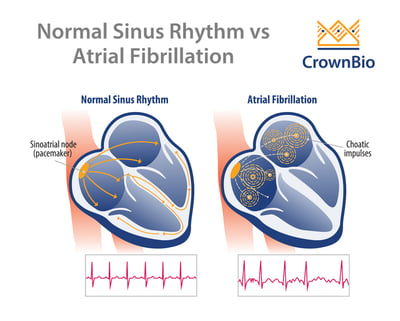 Review the new data identifying brain natriuretic peptide and FGF-23 as biomarkers for detecting atrial fibrillation in patients.
Biomarkers of Cardiovascular Disease
New data-driven evidence for blood-based clinical biomarkers associated with atrial fibrillation (AF) was published this month in the European Heart Journal. The work was carried out by researchers from the Institute of Cardiovascular Sciences, and the Institute of Cancer and Genomic Sciences at the University of Birmingham's College of Medical and Dental Sciences.
The new research calls out two biomarkers that could potentially identify patients with AF. This follows on from our blog post last year which covered the utility of plasma ceramides to predict coronary artery disease.
Early Detection of Atrial Fibrillation
Patients with undiagnosed AF may show no symptoms and can be completely unaware of an irregular heartbeat. Unfortunately, undetected AF can be a serious medical concern. Patients with AF are at greater risk for developing blood clots and, therefore, are at risk for suffering a stroke. Often, AF is only diagnosed once a stroke has already occurred.
Early detection of patients with AF is critical. Prescribing anticoagulant drugs to prevent blood clotting, along with doctor's recommendations, would greatly reduce the risks. An electrocardiogram (ECG), which measures the electrical activity of your heart, is currently used to screen patients for atrial fibrillation.
The two new blood biomarkers associated with AF could guide patient selection for screening and further inform on prevention and targeted treatment of the condition.
Atrial Fibrillation Biomarkers: BNP and FGF-23
The team of researchers looked at 40 common cardiovascular disease (CVD) biomarkers in 638 consecutive patients with known AF or CVD risk factors. They found three clinical risk factors were associated with AF: age, sex, and BMI. Two blood-based biomarkers of AF were also detected - elevated brain natriuretic peptide (BNP) and elevated fibroblast growth factor-23 (FGF-23).
Brain natriuretic peptide is a hormone secreted by cardiomyocytes in the heart ventricles in response to stretching caused by increased ventricular blood volume. In a healthy heart, BNP levels are low. Levels begin to increase when the heart starts to fail, the higher the levels the more severe the heart failure.
In a much larger study, researchers at Duke University found BNP levels in AF patients were associated with increased risk of AF progression and cardiovascular outcomes. In addition to patients with AF progression, the study included subjects with major adverse cardiovascular or neurological events (MACNE) and major bleeding.
Fibroblast growth factor-23 (FGF-23) is a protein responsible for phosphate regulation. Similar to BNP, in heart failure FGF-23 increases as it orchestrates cardiac hypertrophy and remodeling. A team of scientists from Université Catholique de Louvain, Belgium in a publication late last year determined intact FGF-23 in heart failure patients with reduced ejection fraction. They concluded its prognosis value for cardiovascular death over a long-term follow-up.
Summary
Cardiovascular disease remains a global medical concern with a high unmet need for new prognostic disease indicators. Further study is warranted to determine the association between BNP, FGF-23, and disease progression.
---
Author
---