Banana Tolerance Test: A New Stress-Free OGTT Method
by Jody Barbeau PhD, August 27, 2019 at 12:00 PM | Tags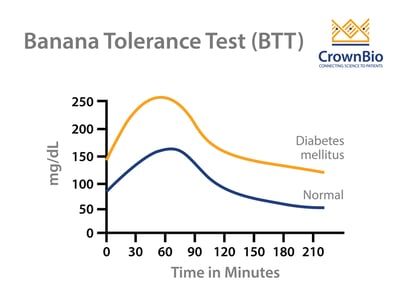 Banana Tolerance Test: A New Stress-Free OGTT Method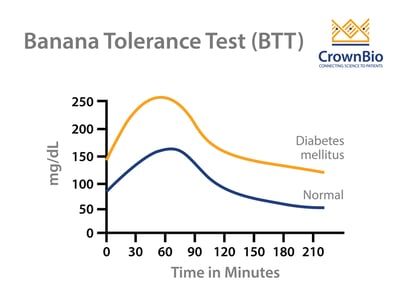 Learn more about the banana tolerance test, which shares beneficial OGTT features while also being stress-free.
Banana Tolerance Test
The Banana Tolerance Test (BTT) has been developed to overcome challenges in blood glucose response measurement, as well as some limitations in certain aspects of NHP preclinical studies.
These challenges include measuring blood glucose (BG) and BG response. BG response in NHPs is currently monitored by oral glucose tolerance test (OGTT) or IV glucose tolerance test (IVGTT). Both tests, however, have limitations:
They are invasive and induce a stress response which can have significant effects on BG levels, masking the effects of glucose-lowering agents being tested.
They require multiple BG measurements over a short period of time.
To overcome these limitations, a new type of tolerance test has been developed - the banana tolerance test (BTT) - which combines beneficial OGTT features while also removing operational stressors and therefore reducing BG fluctuation.
The BTT Provides a Stress-Free Assessment of Glucose Response
The BTT has been developed to provide a stress-free assessment of glucose response. Glucose powder is added to a banana, which is then eaten naturally by a freely moving NHP without gavage or removal from housing. The test overcomes the stressors associated with OGTT and IVGTT, to reduce GTT-induced fluctuations in BG levels.
OGTT is often the tolerance test of choice (proving more accurate than IVGTT), and the BTT shares some benefits including the activation of gastric and intestinal responses which follow oral glucose consumption.
Validating the Banana Tolerance Test to Assess Blood Glucose Response
The BTT has been validated to compare BG response versus traditional OGTT methods. NHPs including both normoglycemic and diabetic animals were assessed, with OGTT needing animals to be chaired.
Baseline data shows that, as expected, diabetic animals have significantly higher fasting BG than normoglycemic controls for both chaired NHPs and those remaining in housing. Chairing itself for the OGTT increases BG levels in both normoglycemic and diabetic NHPs, with normoglycemic chaired animals having larger increases than the normoglycemic NHPs remaining housed.
BTT and OGTT: Similar Study Results
The BTT and the OGTT show similar study results – that diabetic NHPs have impaired glucose response. The average BG for diabetic NHPs at the beginning of the tolerance tests is approximately 150mg/dL, rising to around 250mg/dL after 2 hours for both tests. This is in contrast to the normoglycemic controls, where BG levels start in the range of 60–70mg/dL and increase to only 100 mg/dL after 2 hours.
Conclusion
The BTT shows similar results and trends to the OGTT, validating the BTT as a useful tool for measuring BG response in diabetic NHPs. The BTT also seems to relieve the glucose fluctuation caused by the operational stress of the OGTT, providing an enhanced, stress-free technique for diabetes research and drug development.

---
Author
---