Why would one of the most successful entrepreneurs in biotech choose to take on the challenge of cancer research?
by Jon Waterman Smith, October 29, 2013 at 12:11 PM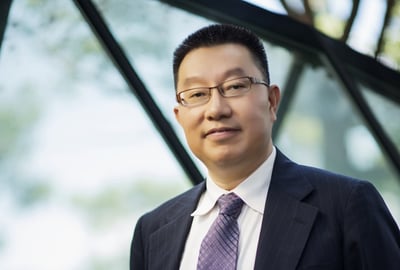 Co-invented more than 200 patents and published 40 scientific articles that referenced 5000 times, Guo-Liang Yu co-founded and was chairman and CEO of Epitomics Inc. for 10 years until their recent acquisition by Abcam for $170M. As the new Executive Chairman of Crown Bioscience, his passion is bringing a fresh and vibrant change to an already highly successful organization.
"I've always been driven by my scientific curiosity and a passion to translate scientific discoveries into real products that might one day become truly life-changing, improving the quality of life for mankind."
Following his graduation from Fudan University in 1984, he moved to the USA and obtained his Ph.D. in UC Berkeley where he and Dr. Greider discovered telomerase and its mechanism in Dr. Blackburn's lab. "What started as exciting and ground-breaking scientific discoveries continues to drive my passion today into turning cancer from a terminal into a chronic disease."
The statistics say it all. The number of new cancer cases each year is predicted to double to 27 million by 2030 with the number of survivors exceeding 75 million, and yet today, a staggering 90% of cancer treatments entering clinical trials fail, with a significant number failing due to efficacy not reflecting that seen in the discovery phase.
In Diabetes to, there is a significant dearth in new treatments. Whilst there is a dramatic global increase in obesity and the repercussions for patient health and the healthcare system, the bar is set high to bring safe new drugs to market, and there are few novel targets for researchers to focus on.
Both disease areas bring different challenges, but similar problems beset success in the clinic – good discovery pipelines need fresh and promising targets to stimulate research, early identification of biomarkers that effectively distinguish patient groups that will benefit from treatments developed, and great preclinical models that provide strong correlation with the clinical conditions that patients present with.
"It sounds corny, but we need a paradigm shift in the way these therapeutic areas are addressed" said Guo-Liang. "Crown has developed technology platforms that really do enable scientists to take a massive step forwards in developing the next generation of treatments for patients". "It really is about translating the great science our partners do, through the use of our patient-derived collections of biological models into drugs that will make a significant beneficial change for patients".
The combination of the world's largest and unique collections of well-characterised, commercially available animal models, in conjunction with comprehensive, searchable databases of curated clinical, genetic and pharmacological response data enables our clients to select models that truly reflect the clinical condition, discover and test biomarkers and genetic fingerprints of activity, identify mechanism of action "in life", and screen human surrogate models that reflect the patient population.
"We are providing a unique service" said Guo-Liang. "A comprehensive collection of models that truly mimic the human condition enabling the most costly part of drug discovery and development, Phase II, to be run early, faster and reducing the cost , time and effort of taking candidate drugs into the clinic."
The "fail fast, fail early" paradigm may now have just acquired an additional and valuable ally.
---
Author
---