FDA Approval of Long-Acting Insulin Cuts Mealtime Stress
by Federica Parisi PhD, October 6, 2015 at 08:00 AM | Tags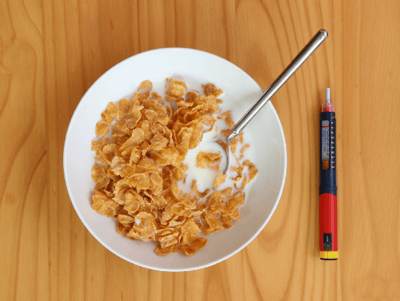 The U.S. Food and Drug Administration recently approved Tresiba (insulin degludec injection) and Ryzodeg (70% insulin degludec-30% insulin aspart injection) to improve blood glucose control in adult patients with type 1 and type 2 diabetes.
Recent estimates from the Centers for Disease Control and Prevention indicate that 21 million Americans have been diagnosed with diabetes. Diabetes, like most chronic diseases, takes a toll on patients' life expectancy and quality of life by increasing the risk of serious health complications such as heart disease, blindness, or nerve and kidney damage. Some of these long-term complications can be improved by controlling the level of sugar in the blood.
Most antidiabetic drugs are designed to achieve this control. When glucose-lowering tablets are no longer effective in controlling blood sugar levels, patients are generally given rapid-actin insulin analogs, as insulin-aspart injections that they usually take before a meal to cover the blood glucose elevation that normally occurs with eating. When also rapid-acting insulin stop working, they will be combined with long-acting insulin formulations to lower blood glucose levels.
Tresiba (degludec) is a long-acting insulin analog developed by Novo Nordisk to improve glycemic control in adults with type 1 and 2 diabetes and recently approved by the FDA. The efficacy and safety of Tresiba, in combination with mealtime insulin or as add-on to common oral antidiabetic drugs, were evaluated in four 26-week and two 52-week active-controlled clinical trials involving 2,702 patients. The results from these trials showed that Tresiba is able to significantly reduce HbA1c (hemoglobin A1c or glycosylated hemoglobin, a measure of blood sugar level), as observed before for other drugs in the same indication.
For patients that no longer respond to rapid-acting insulin, the FDA has also recently granted approval to Ryzodeg, another insulin equivalent manufactured by Novo Nordisk. Ryzodeg (insulin degludec/insulin aspart injection) is a 70%-30% mixture of rapid- and long-acting insulin analogs. The FDA approval followed positive results from four active controlled 26-week clinical trials involving 998 participants.
An FDA advisory panel recommended the approval of Tresiba and Ryzodeg last November after evaluating the benefits of long-acting insulin analogs, namely the potential for a lower hypoglycemia risk (particularly at nighttime), a more flexible dosing schedule, and a flatter and more stable blood glucose profile.
The most compelling advantage of long-lasting insulin, that will certainly make a difference in diabetic patients' quality of life is the product's flexible dosing option, which is unmatched by any other form of insulin. The majority of FDA panelists decided that these benefits closed a real gap in treatment, providing a significant improvement over currently available basal insulin, hence recommending approval.
However the panel could not completely rule out a possible increased cardiovascular risk associated with degludec compared to other basal insulin analogs and unanimously recommended that Novo Nordisk undertake a large study (expected to be around five years and approximately 7,500 patients) to establish if there is any evidence of increase in cardiovascular risk.
Crown Bioscience welcomes these approvals that will surely better diabetic patients' quality of life and looks forward to reviewing the cardiovascular safety outcomes of these new drugs.
Research into wew antidiabetic drug formulations is hindered by a lack of relevant models. Crown Bioscience provides the most clinically translatable animal models in type 2 diabetes research – the Non-human Primates (NHPs) - giving clients maximum confidence in preclinical results, reducing the risk and increasing the chance of success in the clinic.
Crown has developed the world's largest collection of well characterized, naturally diabetic NHPs (DPrime™) and has established the first ever tissue bank of samples from spontaneously diabetic NHPs (DBank™), currently containing over 40 tissue sets with full details on the background history, physiological profile, and individual disease information.
Contact us today at busdev@crownbio.com to discover how we can transform your diabetes research.
---
Author
---