The Link Between Diabetes and Cardiovascular Disease
by Fred Beasley PhD, July 30, 2019 at 12:00 PM | Tags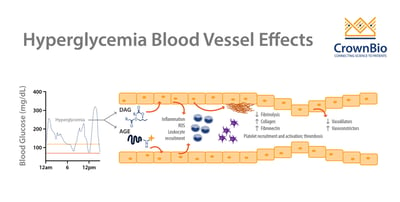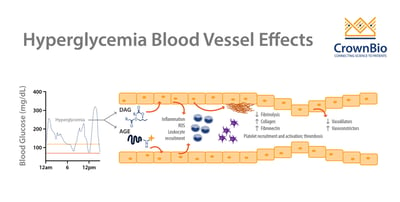 Patients with diabetes mellitus (DM) have increased risk of developing cardiovascular disease (CVD) and hypertension. CVD complications are leading causes of death among the diabetic population. This blog post explores the causal connections between the diabetic condition, macrovascular complications, and hypertension.
Diabetes and Vascular Disease
The chronic physiological and endocrine perturbations occurring in diabetes have profound effects on vascular health. These microvascular and macrovascular complications share many etiological characteristics.
Microvascular complications affect small blood vessels, and typically result in retinopathies, nephropathies, and neuropathies.
Macrovascular complications affect large blood vessels and the heart's ability to pump blood effectively. Diabetes also worsens the symptoms of large vessel atherosclerosis.
Diabetes and Macrovascular CVD
Diabetes mellitus approximately doubles to triples the risk of developing a wide range of macrovascular CVD. Globally, CVD affects one third of all people with type 2 diabetes and accounts for approximately half of patient deaths. Coronary arterial disease, congestive heart failure, and stroke are leading causes of this mortality. This is evident even when adjusted for other risk factors associated with metabolic disease, including obesity, high blood pressure, and cholesterol. Diabetics also tend to develop heart disease at a younger age.
Hyperglycemia and CVD
Elevated blood glucose is considered the primary driver of diabetic CVD. Increasing circulating HbA1c by just 1% increases CVD risk by 8% and 30% in type 1 and type 2 diabetic populations, respectively. Cardiovascular benefits are typically observed when managing glycemic efficacy and often guide endpoint selection in clinical trials for hyperglycemia management.
In hyperglycemia, there's a buildup of glycolytic intermediates that elevate diacylglycerol, a key activator of protein kinase C (PKC) isoforms. PKC pathways deleteriously impact vascular function in a number of ways, by:
Decreasing production of endothelial vasodilators.
Increasing production of vasoconstrictors.
Decreasing fibrinolysis.
Augmenting deposition of capillary occluders like collagen and fibronectin.
PKC also increases production of reactive oxygen species (ROS) by activating NADPH oxidase. This promotes endothelial dysfunction, attracting inflammatory leukocytes and accelerating development of atherosclerotic lesions.
Hyperglycemia also leads to advanced glycation end products (AGE). This is a heterogeneous group of molecules comprising nonenzymatically glycated or oxidated proteins, lipids, and nucleic acids. AGE quicken the development of atherosclerosis, promote endothelial inflammation and thrombosis, and trigger endothelial oxidative stress by formation of ROS.
Conversely, hypoglycemic episodes arising from diabetes treatment with insulin, sulfonylureas, or glinides may also speed up macrovascular disease progression. The hypoglycemic endocrine response acts to increase blood viscosity, coagulation, and platelet aggregation, and creates a sustained burst of proinflammatory cytokines into the circulation, worsening thrombosis.
Insulin Resistance and Impaired Insulin Signaling in CVD
Insulin resistance in type 2 diabetes occurs in a variety of cell types related to cardiovascular function. In vascular endothelium, impairment of the insulin receptor substrate1 pathway leads to diminished production of the crucial vasodilator nitric oxide. Insulin resistant platelets exhibit hyperactive procoagulatory activity, becoming more prothrombotic.
Diabetic cardiomyopathy, a condition characterized by ventricular hypertrophy and diastolic dysfunction, is largely driven by insulin resistance in cardiomyocytes. Their metabolism shifts toward sole reliance on fatty acids for energy. This leads to increased oxygen consumption, accumulation of ROS and AGE, and reduced cardiac efficiency.
Increased lipolysis occurs in adipocytes that are insulin resistant, releasing free fatty acids into circulation. Fatty acid transport into the liver upregulates production of apolipoprotein B, a major component of very low and low density lipoproteins (VLDL, LDL).
LDL retention in the arterial intima leads to atherosclerosis. LDL attracts macrophages, which produce cytokines and chemokines in a proinflammatory recruitment cascade. Abberrant production of reactive oxygen species occurs due to altered glucose metabolism, activating nuclear factor NFκβ pathways in the endothelium and further increasing adhesion molecule expression. Eventually, apoptotic macrophages initiate the necrotic core of plaques, building up to thromboses, myocardial infarction, and stroke.
Diabetes and Hypertension
Two thirds of diabetic adults have blood pressure in the range of stage 2 hypertension. Diabetes and hypertension also share many common root causes: physical inactivity, a high fat and sodium diet, and obesity.
Under these circumstances, the role of adipose tissue as an endocrine organ becomes especially prominent. Visceral adipose tissue produces the components of the renin angiotensin system (RAS) required for production of angiotensin II, a hormone that promotes vasoconstriction, renal tubular sodium reabsorption, and water retention; all key factors in increasing blood pressure.
The comorbidity of hypertension with diabetes is an important consideration for predicting the course and appropriate treatment for CVD. The overlap of disease pathway components affected by both, including RAS, insulin resistance, and oxidative stress, highlights the cyclical nature of disease progression in the diabetic population.
Summary
Metabolic derangements associated with diabetes mellitus lead to accumulations of DAG, AGE, and LDL. These have direct harmful effects on the health of vascular endothelial cells. They also trigger inflammatory, pro-atherosclerotic, and pro-thrombotic events in blood vessels. Along with the comorbidity of hypertension, this creates a perfect storm for developing serious cardiovascular complications.
The complexity of diabetes-associated cardiovascular disease presents numerous therapeutic targets for disease management. Managing blood glucose, however, should be at the forefront of any regimen to improve both diabetes and heart health.
Further Reading
Geraldes and King. Activation of Protein Kinase C Isoforms and Its Impact on Diabetic Complications. Circulation Research 2010; 106:1319-31
Huang et. al. Macrovascular Complications in Patients with Diabetes and Prediabetes. BioMed Research International 2017; Article ID 7839101
Lastra et. al. Type 2 Diabetes Mellitus and Hypertension: an Update. Endocrinology and Metabolism Clinics of North America; 43(1):103-22
Paneni et. al. Diabetes and Vascular Disease: Pathophysiology, Clinical Consequences, and Medical Therapy: Part I. European Heart Journal 2013; 34:2436-446
Rask-Madsen and King. Vascular Complications of Diabetes: Mechanisms of Injury and Protective Factors. Cell Metabolism 2013; 17(1):20-33

---
Author
---