Humanized Immuno-Oncology Model Update: ENA 2018
by Jody Barbeau PhD, November 14, 2018 at 10:00 AM | Tags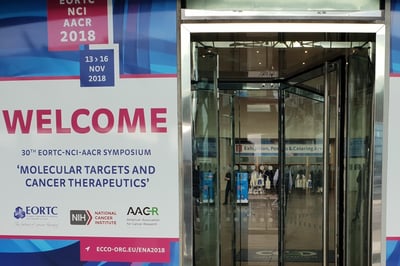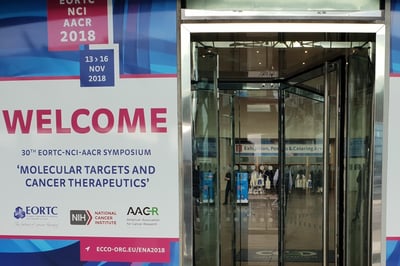 This week, at ENA Dublin 2018, we're presenting new data from our novel humanized in vivo preclinical platforms. This blog recaps all the new data on double knock-in humanized drug target models and our PBMC-humanized system.
Humanized Drug Target Models for Combination Regimens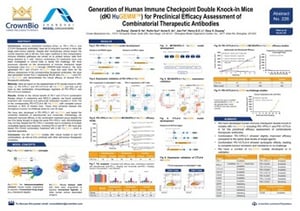 The future of immunotherapy is likely to be in combination regimens. This means that preclinical models are needed which can test pairs or combinations of human-specific I/O agents.
Our HuGEMM platform of humanized drug target models (e.g. PD-1, CTLA-4) has been presented previously, but at ENA we've got exciting new data to share – the first look at our double knock-in models! These models each feature two humanized immune checkpoint targets within an immunocompetent mouse for combination immunotherapy development.
ENA Poster 226 details the development strategies and FACS validation of two double knock-in models: PD-1/PD-L1 and PD-1/CTLA-4. Both models are created by breeding individual single knock-in models and validated for the expression of the selected human proteins.
PD-1/PD-L1 Double Knock-In Mouse Model
The poster details our latest efficacy studies of combination checkpoint inhibitors. The PD-1/PD-L1 model was treated with atezolizumab and nivolumab singly and in combination. Interestingly, the combination group showed improved efficacy over the single agents, even though they're targeting the same PD-1/PD-L1 axis. It's possible that the single agent monotherapies don't fully release the blockade due to the actions of compatible ligands and receptors, such as PD-L2 or B7-1.
PD-1/CTLA-4 Double Knock-In Mouse Model
We also tested our PD-1/CTLA-4 double knock-in model with combined and single agent nivolumab and ipilimumab antibodies. Here, the combination PD-1/CTLA-4 showed synergistic effects, leading to complete tumor remission in a large proportion of treated mice. The mice also remained disease-free in a subsequent tumor re-challenge study.
Our double knock-in models are changing the way human-specific immune checkpoint inhibitors are assessed preclinically. We've also got a PD-1/OX40 model available, with many more in development to present at upcoming events.
PBMC-Humanized Tumor Models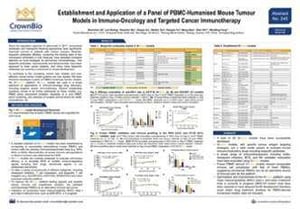 Our ENA PBMC-humanized model poster covers the latest updates on using these models for bispecific antibody testing.
PBMC-humanized models are developed by mixing human PBMC with traditional, cell line-derived xenografts. The resulting models are an ideal platform to assess bispecific antibodies preclinically, with partial reconstitution of human hemopoiesis and specific tumor antigen targeting strategies.
The poster gives an update on which bispecific antibodies have been tested using these models, including number of studies, target, test article, and tumor response (i.e. resistance, partially sensitive, sensitive).
PBMC Source Validation
The poster also includes frozen PBMC validation and immunoprofiling for RKO and HT-29 models. Frozen PBMC derived-models showed comparable immune cell constitution with fresh PBMC-derived, suggesting that commercial PBMCs can be an alternative source of immune cells for this platform.
A summary overview of all our validated in vivo PBMC-humanized models is also included for reference.
More on ENA 2018
Don't miss our related ENA blogs on murine I/O models (syngeneics and tumor homografts), PDX, and systems biology.
---
Author
---