Aflibercept Eying Up The Competition in Diabetic Retinopathy
by Federica Parisi PhD, April 7, 2015 at 08:00 AM | Tags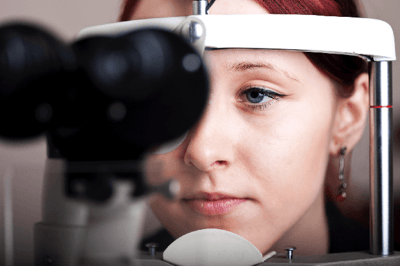 Diabetic retinopathy is a diabetic complication consisting in damage to the blood vessels in the retina that, if left untreated, can lead to blindness. The FDA has added diabetic retinopathy in patients with diabetic macular edema to the list of approved indications for aflibercept (Eylea®)
Diabetic retinopathy (DR) affects up to 80% of all patients who have had diabetes for 10 years or more; it is the leading cause of blindness for people aged 20 to 64 years, and accounts for 12% of all new cases of blindness each year in the US alone. It is estimated that over 93 million of people suffer from DR worldwide, making this pathology a substantial public health burden.
Retina degeneration in diabetic patients is a consequence of the high level of sugar in their blood that causes the small blood vessel around the retina to narrow, bleed and leak. Before the introduction of the first vascular endothelial growth factor (VEGF) inhibitor, the standard of care for DR patients consisted in laser photocoagulation of the retina.
Genentech's Lucentis® (ranibizumab) was the first VEGF inhibitor to be FDA approved in the treatment of diabetic macular edema (DME). DME is one of the manifestations of retinopathy during which fluids leak from the blood vessels into the center of the macula causing pain, swelling, and blurred vision. Approval to ranibizumab was granted in 2012 following encouraging results from the RIDE and RISE Phase III trials that showed improved vision in DME patients compared with placebo.
Lucentis works by inhibiting the growth of the blood vessels around the retina, much like the anticancer agent Avastin® (bevacizumab), and this common mechanism of action has led to clinicians often prescribing off-label bevacizumab for DME treatment in the past because of its lower price tag. Although both compounds showed to be equally effective, some off-label indication concerns were raised during the 2012 American Diabetes Association meeting and prompted further head-to-head trails of VEGF inhibitors in DME where appropriate measures of patient's outcome could be recorded and with a longer follow-up to evaluate adverse effects.
In 2014 Regeneron announced the release after FDA approval of their own anti-VEGF agent, Eylea (aflibercept) which was okayed for DME treatment after the results of the VISTA-DME and VIVID-DME Phase III trial programs, involving 862 patients. Aflibercept was already approved for age-related macular degeneration and macular edema.
In 2015 more good news for retinopathy patients has been received as the FDA has expanded the use of ranibizumab for diabetic retinopathy in patients with DME. Moreover, a recent NIH sponsored study found that Regeneron's aflibercept bested both ranibizumab and bevacizumab (still in use by clinician in spite of being off-label for this specification) at improving visual activity in DME patients who started with a worse baseline vision and was finally granted FDA approval also in this specification early this year.
This crowded field of anti-VEGF agents in retinopathy highlights a trend in which next generation antidiabetic agents target disease complications rather than just blood glucose control. For this reason appropriate models that manifest diabetes complications as well as hyperglycemia are required to enable research into new therapies.
Non-human primate (NHP) models of diabetes are the most clinically translatable animal models in the diabetes field, developing all of the characteristics of diabetic patients at different stages of the progressive disease, and late-stage complications such as DR. Crown Bioscience has the world's largest collection of well characterized naturally diabetic NHPs (DPrime™) for your research into both diabetes and diabetic complications including DR. We have also established the first ever tissue bank of samples from spontaneously diabetic NHPs (DBank™), currently containing over 40 tissue sets including from models with DR, with full details on the background history, physiological profile, and individual disease information for the specific NHP.
Contact us today at busdev@crownbio.com to discover how we can transform your diabetes research.
---
Author
---