How to Assess Immunotherapy Toxicity with NHP Models
by Jody Barbeau PhD, September 10, 2019 at 12:00 PM | Tags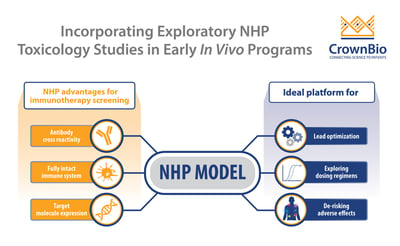 How to Assess Immunotherapy Toxicity with NHP Models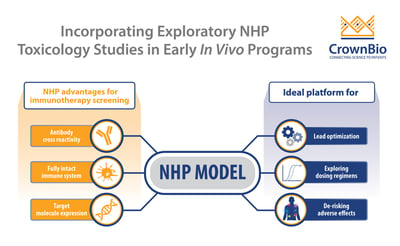 Explore non-GLP exploratory toxicology NHP studies as a rapid and cost-effective way to assess immunotherapy toxicity.
Clinical Immunotherapy Toxicity
Clinical immunotherapy toxicity can be unpredictable, with adverse events seen which aren't observed in preclinical testing. The most serious (and potentially life threatening) clinical side effect is cytokine release syndrome, an immune-related adverse event associated with T cell engagement, proliferation, and a "cytokine storm".
It's therefore vitally important that CRS and other potential immunotherapy toxicities are appropriately assessed in the preclinical space before clinical trials.
Challenges in Immunotherapy Toxicity Testing
There are major challenges, however, when it comes to assessing immunotherapy toxicity - not least that an optimal preclinical model does not exist. While murine models are often used for testing I/O agent PD and efficacy, they're less useful for safety testing and predicting human toxicity such as cytokine storms.
One way to move past this is to select a preclinical species with closer immunological homology to humans. NHP homology combined with an intact immune system allows you to test for I/O agent and antibody cross-reactivity and to screen for toxicity in NHP non-GLP exploratory toxicology studies.
Non-GLP Exploratory Toxicology NHP Studies
Non-GLP exploratory toxicology NHP studies are used to evaluate novel I/O agent safety in a rapid and cost-effective way. A wide range of immunotherapies can be tested, such as mAbs, CAR-T cell therapies, ADCs, vaccines, small molecules, cytokines, and oncolytic viruses.
This type of study is usually performed early during an agent's in vivo development program, and is used as a:
Lead optimization tool.
Platform to explore dosing regimens.
Tool to de-risk typical clinical adverse events commonly seen with I/O agents.
Study Design
Study design should be carefully considered. There's a long list of factors to think about including model background and status, weight (which is how cohorts are selected), as well as study history. Sampling frequency should consider ethical limits, and study endpoints to select include classical toxicology endpoints as well as immunological markers and PK.
Non-GLP exploratory toxicology NHP studies allow for flexible and customized study designs. This includes long-term testing (e.g. 6 week studies) that goes beyond the standard 28-day toxicology studies required before Phase I studies. Longer studies like this allow flexibility to alter dosing, and to truly understand the impact of compound dose on toxicity.
Shorter studies can also be designed, but using a larger number of animals per group if you have a large pipeline to assess.
Dosing
One main consideration when developing I/O agents is dosing. For immunotherapies, the traditional dose-toxicity paradigm rarely applies, with non-linear dose-toxicity relationships.
This can be addressed in non-GLP exploratory NHP studies which allow for variations in duration and dosing regimens. Multiple dosing paradigms can be assessed, along with a range of study types e.g. escalating/de-escalating, repeated dose, MTD.
Screening Strategies
There are multiple ways to screen for potential immune-related toxicities in these studies:
Monitoring body weight and food intake can provide early toxicity indicators.
Clinical observations such as changes in heart rate and/or body temperature, hypotension, or labored breathing can also be important initial indicators of immune-related toxicity.
Pathology organ evaluations and necropsy provide terminal toxicity endpoints.
FACS and cytokine measurements of predictive toxicity biomarkers are also employed.
In vivo cytokine and chemokine profiling is supported by in vitro immune marker expression profiling in blood samples from humans and NHPs. This explores differences in immune cell marker expression (including cytokines, cluster of differentiation markers, and immune checkpoint targets) between the two species. This data is useful to prevent underprediction of preclinical toxicity due to changes or differences in expression of immune cell markers between humans and NHPs.
De-Risking Adverse Events
Non-GLP exploratory toxicology NHP studies are also useful to de-risk adverse events seen in clinical trials of similar agents. For example, if bleeding events have been seen clinically then bioassays can be developed to assess this preclinically through a variety of bleeding and clotting biomarkers. Extensive FACS and multiplex analyses can help to de-risk previously seen clinical cytokine events.
Cost and Future Study Benefits of Non-GLP Immunotherapy Toxicity Testing
There is a cost benefit by performing non-GLP exploratory toxicology NHP studies to assess immunotherapy toxicity compared with a GLP study, with studies often costing only 25-30% of a GLP equivalent. As well as de-risking potential adverse events, non-GLP exploratory toxicology NHP study data is used to directly inform subsequent GLP studies, enable candidate selection, and guide future clinical work.
Conclusion
Immunotherapy toxicity testing often has specific requirements not seen in traditional drug development programs. Non-GLP exploratory NHP toxicology studies provide a highly translatable platform in a model with close homology to humans for assessing potential immune-related toxicities.
These studies allow flexible designs incorporating multiple developmental questions, such as dosing regimen and immunogenicity endpoints. Robust data to guide future GLP work and clinical studies is generated in a rapid and cost-effective way.

---
Author
---