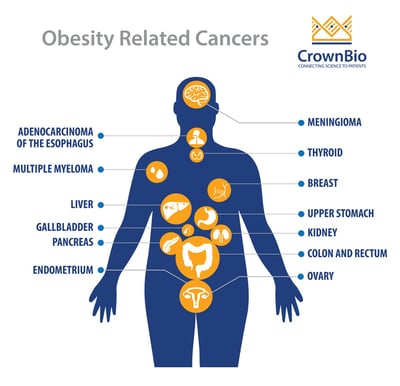 How does obesity impact cancer development and immunotherapy response? Find out in our review of cutting-edge combined oncology and metabolic disease studies.
Obesity and the Immune System
Obesity is characterized as an inflammatory metabolic state with dysregulated immune response. In obesity, there are higher circulating concentrations of inflammatory cytokines than seen in lean beings.
Little is understood about the impact of obesity on immune response during cancer progression, or the impact of obesity on effective immunotherapy. What is known is that in a 2017 study, 40% of new cancer diagnoses in the US were associated with being overweight or obese. This makes obesity an important research target within oncology.
Obesity and Colon Cancer Development
Colon cancer is one of a variety of cancer types associated with obesity (we recently posted on HCC as another cancer from the obesity-related list). How obesity influences cancer is still up for debate, potentially differing between cancer types. If we can elucidate how obesity drives cancer progression it may provide new drug targets.
This was investigated for colon cancer by a research team from Yale, with their results published in Cell Reports earlier this year. The team used mice implanted with colon cancer tumors, or a genetic model of colon cancer, to study hyperinsulinemia. The research looked at how high insulin levels lead from obesity and diabetes to colon cancer.
The research team concluded that high levels of insulin were indeed the link between obesity and colon cancer. The colon cancers grew with the help of insulin-driven glucose uptake into tumors. The preclinical models were then treated with two different anti-diabetics and the researchers discovered that both drugs reduced insulin levels which slowed tumor growth in the mice.
The study provides key evidence that the hormonal milieu that drive glucose metabolism may be key mechanisms to combat tumor growth.
Obesity and Immunotherapy Response
Checkpoint inhibitors such as anti-PD-1 and anti-CTLA-4 agents have been a major breakthrough in cancer treatment, blocking immune checkpoint pathways that cancers use to escape the immune system. However, despite long term benefits in a selection of patients, a lot of people don't respond to these drugs. Understanding why, and increasing responder numbers, is a vital part of ongoing immuno-oncology research. Understanding how obesity plays a role in patient response is also important.
Researchers from UC Davis recently published a paradoxical impact of obesity on cancer in Nature Medicine. The promising studies used both animal models and human patients to look at the impact of PD-1 inhibitors.
The researchers found that checkpoint inhibitors resulted in better survival in those who are obese rather than those who are not. Obese mice with tumors treated with anti-PD-1 checkpoint inhibitors survived significantly longer than the non-obese control mice. Furthermore, obese melanoma patients who were treated with checkpoint inhibitors had marked improvements in clinical outcomes compared with those seen in non-obese patients.
This was due to obesity increased T cell aging and PD-1-mediated T cell dysfunction which resulted in the tumors being more responsive to checkpoint blockade. This is partly driven by leptin signaling.
However, it was also found that tumors grew more aggressively in obese mice, regardless of tumor type. This is probably due to immunosuppression as well as direct metabolic and hormonal effects.
These data show a great paradoxical impact of obesity on cancer. There is heightened immune dysfunction and tumor progression, but this goes hand in hand with greater anti-tumor efficacy and survival after checkpoint blockade, which blocks pathways activated in obesity.
Summary
Although studies are lacking which investigate the ability of obesity to modulate immunotherapy response, more data will be critical to personalize medicine and improve patient outcomes. Factors like gender, the type of diet consumed, individual microbiomes, and the timing of treatment need to be examined to better target immunotherapies and improve response rate.