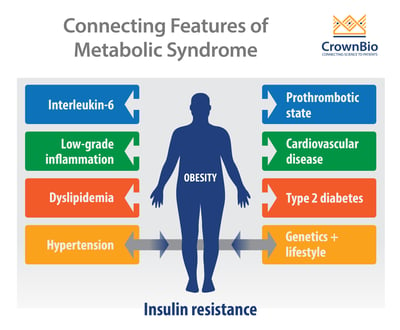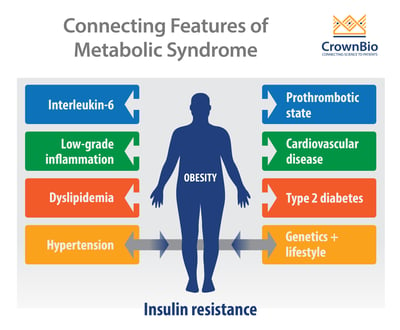 We presented data on our next generation type 2 diabetes (T2D) and obesity rodent models at the ADA Scientific Sessions this year. This included the latest research using the FATZO mouse investigating whether murine models can be used to understand underlying inflammatory mechanisms as they relate to T2D and obesity.
T2D and obesity are strongly associated with peripheral immune cell response. Exactly how obesity and diabetes affect immune homeostasis, and this imbalance leads to chronic inflammation, are now subjects of wide preclinical investigation.
Clinical observations provide more clues for further exploration. However, basic mechanisms governing inflammation in the context of metabolic disturbances remain unclear. Zhao et al observed higher numbers of blood Th1, Th17, and Th22 cells (which are subsets of T helper cells) in disease patients, while Th2 and Treg cells showed an inverse correlation with disease severity.
T2D Patients have Higher Blood Th1 and Th17 Cells
MHO: metabolically healthy obese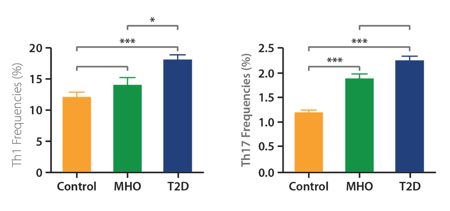 Adapted from Zhao et al. PLOS One 2014; 9(1):e85770
Subsets of T cells in the circulation are closely correlated with disease severity, and may serve as novel targets for antidiabetic or obesity treatments.
Modeling Connections in the FATZO Mouse
The FATZO mouse is a new generation of T2D mouse model with intact leptin signaling. Model features include the slow onset of diabetes, obesity, and dyslipidemia(1,2).
FATZO Mice Develop Obesity and Hyperglycemia at 12 Weeks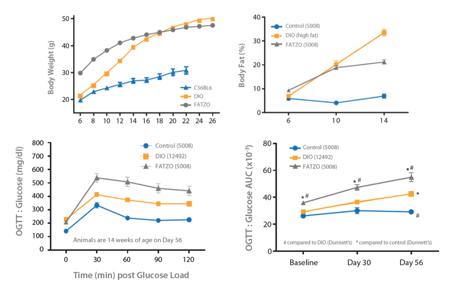 FATZO Mouse Peripheral Immune Cell Response
FATZO mice develop changes in peripheral immune cell response that closely mimic T2D and obese patients. There is an observable increase in Th1 and Th17 cells as the mice become more obese and hyperglycemic. Further results from measurement of serum inflammatory cytokines also shows a tendency to higher levels of serum IL1α when the animals become diabetic.
Characterization of Peripheral Immune Cell Response in FATZO Mice

Summary
Further exploration may lead to opportunities to use this model in preclinical drug development targeting diabetes or obesity-related inflammation.
Look out for our next blog posts to catch up with all our ADA data on using next generation rodent models to study cardiac dysfunction and our collaborative poster with Pegasus Bio evaluating FTY720 therapeutic potential in T2D.
Further Reading on the FATZO Mouse:
Peterson et al. Glucose dysregulation and response to common anti-diabetic agents in the FATZO/Pco mouse. PLoS One 2017; 12(6): e0179856.
---
Author
---