The Lung Cancer Immunotherapy Race Heats Up!
by Jody Barbeau PhD, January 20, 2015 at 09:00 AM | Tags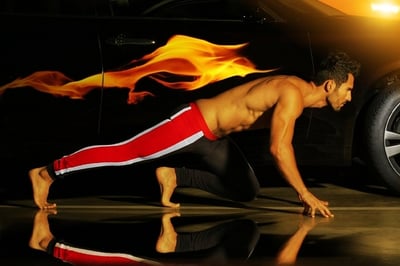 Immunotherapy as an oncology treatment paradigm really came of age in 2014, with the first FDA approvals of anti-PD-1/PD-L1 therapies in advanced melanoma. Developments in the field look like they are not slowing down in 2015, with the race on for approval in the much larger lung cancer patient population.
Targeting cancer by taking advantage of a patient's own immune system is showing considerable success, bringing both new treatment options to patients and commercial success to the pharmaceutical industry. Experimental immunotherapies such as monoclonal antibodies targeting the immune regulation checkpoint protein PD-1 are being trialed in a range of cancer types, and the scientific background and first FDA approvals for Keytruda® from Merck and Opdivo® from BMS have been covered in detail in our previous blogs.
The first approvals of these agents in advanced melanoma was excellent news for patients – melanoma is the most malignant form of skin cancer, causing the vast majority of deaths from the disease. There are around 5,000 metastatic melanoma patients being treated each month in the US, and a quarter of these may be eligible for Keytruda or Opdivo treatment (which is on disease progression following Yervoy® therapy and a BRAF inhibitor if appropriate). Additional patients who have disease progression will then also be eligible for these treatments over time.
While this is a reasonably large number of people who can benefit from a patient point of view, for the pharmaceutical industry it is quite a limited population from which to generate revenue. A much larger market is non-small cell lung cancer (NSCLC). Lung cancer is the leading cause of cancer deaths globally, and is responsible for around 160,000 deaths alone in the US each year. NSCLC makes up 85% to 90% of all lung cancer cases, and both Keytruda and Opdivo are proving successful in advanced NSCLC (which has a five-year survival rate of only 2%).
Earlier this month, BMS announced that the Phase III CheckMate-017 trial evaluating Opdivo against docetaxel in previously treated advanced or metastatic NSCLC patients was being stopped early due to superior overall survival in patients receiving Opdivo compared to the control arm. The study is the first time that an anti-PD-1 treatment has indicated a survival advantage in lung cancer, and BMS have said that they will share their data with the health authorities. Merck have responded by stating they will apply for FDA approval of Keytruda in NSCLC (in patients without ALK or EGFR mutations) ahead of schedule, probably by the middle of the year, leading to a race for approval similar to that won by Merck in melanoma. Keytruda approval by the FDA could be as soon as the end of 2015 as the drug has a Breakthrough Therapy Designation, Opdivo was granted FDA Fast Track Designation in NSCLC in 2013. Analysts are already predicting that anti-PD-1/PD-L1 agents will be a blockbuster class of drugs. In NSCLC, it is thought that Opdivo holds particular promise and it is being touted as the most commercially promising agent in this field.
It is exciting to see the fast paced advances in the immunotherapy field, especially within NSCLC where new treatments are essential to improve poor survival rates for advanced disease. Having two or more agents battling out for approval should speed up timelines, and hopefully provide multiple novel treatment options for patients.
The development of immunotherapies still however faces many challenges, not least a lack of experimental models featuring a functioning immune system for preclinical evaluation. Crown Bioscience support research in immune therapies with a range of immunotherapy platforms (with either murine or human immunity) in a range of different cancer types, including syngenic models, GEMM, MuPrime™ (the murine version of HuPrime® which is the world's largest collection of well-characterized and validated Patient-Derived Xenograft models), HuMice™ (humanized mice produced through inoculating human hematopoietic cells into immunocompromised mice), and MiXeno™ (creating transient human immunity by mixing human peripheral blood mononucleated cells with xenograft models). We also support melanoma and NSCLC research through the use of our clinically relevant Xenograft and Patient-Derived Xenograft models available for drug discovery and translational sciences.
Contact us at busdev@crownbio.com to discover how we can transform your immune therapy research today.
---
Author
---