NASH Clinical Update: What to Expect in 2020
by Fred Beasley PhD, January 23, 2020 at 01:37 PM | Tags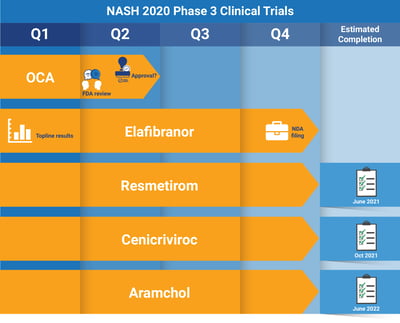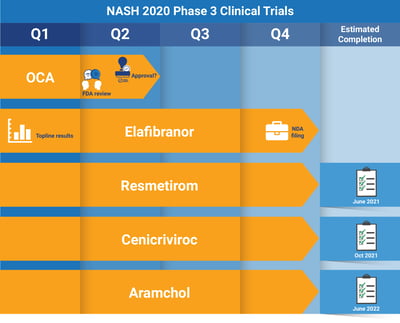 Review the rapidly evolving non-alcoholic steatohepatitis (NASH) clinical landscape, with a roundup of all the big 2019 news and who could win the first drug approval for NASH in 2020.
2020 – A Big Year in NASH Clinical Development?
The race has been on for a few years to achieve the first FDA approved agent to treat NASH. This could come to fruition in 2020, as Intercept Pharmaceuticals submitted a new drug application for obeticholic acid (OCA) in 2019, and awaits a decision from the FDA in the first half of the year.
The rest of the NASH competition remains hotly engaged, and in this post I'll review recent promising clinical developments, as well as several high profile failures.
Why is a Treatment for NASH so Important?
NASH is an inflammatory, fibrotic syndrome that develops from nonalcoholic fatty liver disease (NAFLD). Patients experience progressive scarring toward cirrhosis and potentially carcinoma. Up to and through early stages of fibrosis, this is an asymptomatic trajectory, and can be managed or even reversed through changes to diet and exercise.
Nevertheless, global prevalences of NAFLD and NASH are estimated to be 25% and 3-5%, respectively, meaning pharmacological intervention has the potential to generate blockbuster returns on investment.
Beyond the absence of an approved therapy and the size of the potential patient pool, NASH is an intriguing disease for basic and discovery research. A variety of metabolic, hormonal, inflammatory, and fibrotic mechanisms interplay in its development and progression, presenting a variety of axes to target for disease management and resolution. The 2019 field of clinical candidates exemplifies the complexity and richness of therapeutic targets.
Leading the Way to NDA For NASH Therapies
Intercept reported positive interim data from its Phase 3 REGENERATE trial of OCA, including the meeting of the primary endpoint of improving liver fibrosis without worsening of NASH in 18 months. OCA is currently the only therapy under investigation to meet one of its primary Phase 3 study endpoints in NASH patients: improvement of fibrosis without worsening of NASH. It's also the only agent with an FDA Breakthrough Therapy designation for NASH with fibrosis. These positive results prompted the company to file a priority review for NDA.
OCA is a semisynthetic bile acid analogue agonist of FXR, an important regulator of hepatic triglyceride levels. Concerns about long term safety issues persist, including increased circulating cholesterol and adverse cardiovascular events. These may require coadministration of statins. OCA is also an extremely expensive drug, costing about $70K per year when prescribed for the already approved indication of primary biliary cholangitis. These factors are encouraging Intercept's competitors to soldier on.
French drugmaker Genfit is expected to report topline interim data from its Phase 3 RESOLVEIT trial in Q1 2020. In November, it reported positive safety data for elafibranor, including lack of issues with interface hepatitis. This earned it a recommendation for continuation. Elafibranor is a dual PPARα/δ agonist that improves metabolism of triglycerides and lipids.
Other Phase 3 NASH Drug Candidates
Cenicriviroc: Allergan continued the AURORA trial for improvement of advanced fibrosis without worsening of NASH for this CCR2/CCR5 receptor inhibitor; results are expected early 2020.


Aramchol: Galmed Pharmaceuticals initiated their 52 week phase 3/4 ARMOR trial in prediabetic and diabetic NASH patients with advanced fibrosis. Histology-based endpoints include NASH resolution without worsening of fibrosis, and fibrosis improvement without worsening of NASH. Aramchol is a first-in-class liver targeting SCD1 modulator.


Resmetirom: In December, Madrigal Pharmaceuticals began dosing patients in a Phase 3 safety and biomarker study in NASH patients with advanced fibrosis. In March, they began their first Phase 3 clinical trial, with a primary endpoint being NASH resolution. Resmetirom is a first-in-class thyroid hormone receptor beta agonist.
Phase 2 NASH Agent Candidates
The potentially imminent approvals of OCA and elafibranor haven't scared away numerous late entrants into the NASH drug development race.
VK2809: Viking Therapeutics announced initiation of enrollments for NASH patients with varied stages of fibrosis for a Phase 2b efficacy and tolerability study. This followed positive results for lowering of liver fat in NAFLD patients with good safety in a Phase 2 trial. VK2809 is another thyroid hormone receptor beta agonist, and is described by Viking as "best-in-class".


Icosabutate: NorthSea enrolled its first NASH patients for a Phase 2b trial of a structurally engineered fatty acid that regulates pivotal lipid pathways involved in hepatic inflammation.


MSDC-0602K: At The Liver Meeting®, Cirius Therapeutics announced positive data for noninvasive and histopathological markers of metabolism and NASH for its MPC-modulating insulin sensitizer. Cirius now plans to meet with regulatory authorities to discuss design for the planned Phase 3 study.


Lanafibranor: Inventiva Pharma received fast track designation from the FDA for their panPPAR agonist; results of their Phase 2b NASH trial are expected in H1 2020.


Tropifexor and licoglifozin: Novartis reported promising 12 week Phase 2 and 2a data, respectively, at The Liver Meeting. These included improved liver enzymes and liver fat levels in NASH patients. Tropifexor is a FXR agonist and licoglifozin is a SGLT1/2 inhibitor.


Aldafermin: NGM Biopharmaceuticals' engineered human hormone FGF19, which interacts with receptors to regulate bile synthesis and lipogenesis, continued through multicohort Phase 2 testing. NGM reported positive data for reduction of liver fat in enrolled NASH patients.


AKR-001: Akero Pharmaceuticals announced completion of enrollment for a Phase 2a trial using another hormone analog. This mimics FGF21, an important regulator of lipid and energy metabolism. The primary endpoint is of hepatic fat in NASH patients.


EDP-305: Enanta Pharmaceuticals reported narrowly hitting Phase 2a primary endpoints in NASH patients. The FXR agonist lags behind in a crowded field and is overshadowed by OCA's relatively superior historical performance in similar trials.
We Can't All Be NASHtronauts – NASH Agent Discontinuations in 2019
There were several high profile discontinuations of aspiring NASH therapeutics in 2019, including:
BI 1467335: Partners Pharmaxis and Boehringer Ingelheim abandoned course on turning their SSAO/VAP1 inhibitor into a NASH drug after undisclosed drug-drug interactions were uncovered in Phase 1.


Firsocostat and cilofexor: Gilead tested their ACC inhibitor and FXR agonist, respectively: alone, in combination with each other, and in combination with their ASK1 inhibitor selonsertib (see below). None of the treatments reduced scarring in a Phase 2 trial of patients with advanced NASH fibrosis.


Selonsertib: The Gilead drug failed two Phase 3 trials, performing as well as or worse than placebo at reducing histological improvements to fibrosis.


Seladelpar: CymaBay Therapeutics terminated Phase 2b studies on its PPARδ agonist after patient biopsies indicated the condition of interface hepatitis. The drug had also failed to reduce liver fat in preliminary results of the trial.


Emricasan: Conatus Pharmaceuticals announced that their Novartis-partnered pancaspase inhibitor was outperformed by placebo in fibrosis resolution in NASH patients in a Phase 2b trial. Emricasan continued its losing streak, having flopped in two Phase 2b liver disease trials in 2018.


NASH Drug Development Predictions
2019 was named the "Year of NASH", but I believe we're facing a longer course – years of NASH. Whether or not elafibranor and OCA hit the market in 2020, I predict the wide variety of NAFLD/NASH targets and patient populations requiring different treatments mean the NASH clinical landscape will remain ripe for years to come.

---
Author
---