From Pathogenesis to Treatment with NAFLD/NASH
by Jody Barbeau PhD, July 31, 2018 at 01:00 PM | Tags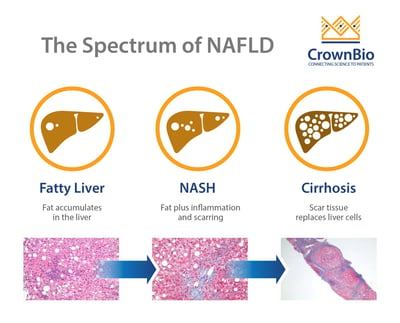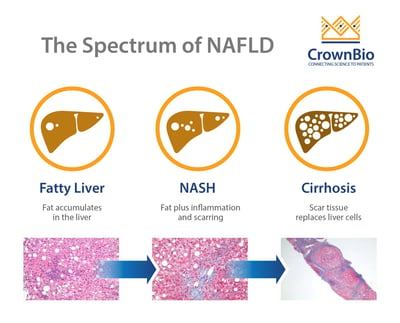 Non-alcoholic steatohepatitis (NASH) is a hot topic in 2018, with a race to the first approved treatment well under way and the 1st International NASH Day driving increased awareness of the disease. In this essential quick guide, learn more about the progression, diagnosis, and treatment of NAFLD and NASH.
What is NASH?
While diabetes and obesity are well-publicized public health issues, NASH is less well known. Yet NASH is expected to become the number one cause of US liver transplants by 2020, with its increasing prevalence linked with obesity and type 2 diabetes.
One main issue with NASH is that it's a 'silent' disease, with patients not showing any symptoms until in an advanced state of the disease, or when the disease has progressed. This means that NASH is under-diagnosed and remains fairly unknown.
NASH Progression
The main feature of NASH is fat build up in the liver, alongside liver inflammation and damage. These factors are reversible, but severe cases progress to irreversible cirrhosis.
NASH is chronic, with a long natural history, and this progression to cirrhosis can take many years. As the disease advances, symptoms such as fatigue, weight loss, and weakness begin to appear, with cirrhosis eventually causing fluid retention, muscle wasting, bleeding from the intestines, and liver failure. The only 'treatment option' at this late stage is liver transplant.
Pathogenesis of NASH
NASH is an extremely complex disorder. Risk factors include:
Metabolic syndrome
Hypertension
Heart disease
Being overweight or obese
Type 2 diabetes
Insulin resistance
High blood lipids.
Excessive calorie intake and a lack of exercise are lifestyle factors related to a higher risk of NASH. Inflammation also has a role in the multifaceted development of this disorder.
How is NASH Diagnosed?
The first-line NASH effects are usually elevated liver enzymes (e.g. ALT or AST), often detected through routine medical testing or when checking for other disorders. Other reasons for these elevations need to be ruled before NASH can be confirmed, such as medications, viral hepatitis, or excessive use of alcohol.
The next steps to a diagnosis can include noninvasive ultrasound imaging to confirm a buildup of fat in the liver. However, the only FDA-approved method for confirming a NASH diagnosis is an invasive liver biopsy.
The key histological markers which are assessed post-biopsy are:
Steatosis
Inflammation
Fibrosis
Ballooning.
These are combined to give a NAFLD activity score (NAS), which shows the severity of the disease and can be used to evaluate histological changes over time.
At the moment, there are currently no noninvasive scans or blood tests which can provide the same detailed information, or which could be used to replace the liver biopsy.
Noninvasive NASH Diagnosis Tools
There are, however, some new, noninvasive NASH diagnosis tools under development or being used within clinical trials.
MRI-PDFF
Magnetic resonance imaging-proton-density fat fraction (MRI-PDFF) provides an accurate, validated marker of hepatic steatosis through noninvasive MRIs. A recent Phase II study from Madrigal using this technique was the first trial to demonstrate a positive correlation between improvements in liver fat at 12 weeks (via noninvasive MRI-PDFF) with NASH histologic results via liver biopsy results at 36 weeks post-treatment.
Metabolomics
OWL have developed a noninvasive metabolomics based analysis, the first in vitro test to determine steatosis and NASH. The test uses patient serum samples and is being used/assessed in clinical trials, where it can be useful to stratify patient populations and to verify randomizations in large study populations.
Sonography
Noninvasive sonography is another technique being employed to avoid liver biopsy. Preclinical studies using NHPs have utilized sonography to determine hepatic lipidosis, with average echo intensity shown to be markedly different for obese versus control animals.
Combining these new methods with gold standard biomarkers (such as levels of ALT, and AST levels) could provide excellent noninvasive tools for earlier diagnosis of disease or disease progression, cutting down the number of liver biopsies needed during a long and chronic disease lifetime.
How is NASH Treated?
Currently, there are no approved treatment for NASH, and standards of care are essentially lifestyle interventions, such as exercise, weight loss, improved diet, and abstaining from alcohol. However, these lifestyle changes haven't been conclusively shown to prevent disease progression.
We recently reviewed the main players in the NASH Phase III drug development race with a brief recap here.
Company
Agent and MOA
Phase and Trial
FDA Designation
Recruited Patients
Primary Endpoint
Estimated Completion Dates
Genfit
Elafibranor Dual PPAR alpha/delta agonist
III
RESOLVE-IT
Fast Track
NASH patients with significant (F2) to advanced (F3) fibrosis
Resolution of NASH without worsening of fibrosis after 72 weeks of treatment
Primary Completion: December 2021
Intercept
Obeticholic Acid
FXR agonist
III
REGENERATE
Breakthrough Therapy
NASH patients with significant (F2) to advanced (F3) fibrosis
Resolution of NASH without worsening of fibrosis OR Achieving at least one stage of liver fibrosis improvement with no worsening of NASH after 18 months of treatment
Primary Completion: 2019

Study Completion: 2022
Novartis/
Allergan
Cenicriviroc CCR2/CCR5 inhibitor
III
AURORA
Fast Track
NASH patients with significant (F2) to advanced (F3) fibrosis
Achieving at least one stage of liver fibrosis improvement with no worsening of NASH after 12 months of treatment
Primary Completion: July 2019

Study Completion: July 2024
A major drawback in NASH drug development is the extended timelines of the disease. The chronic disease natural history results in a "sit and wait" timeline in a long term disease, where even a very effective therapy may not show an observable effect for many years.
Of the current drugs in Phase III trial, many researchers are looking to the Intercept data. This trial has the earliest main study completion date (2022) and the most interesting endpoint – either resolution of NASH or fibrosis improvement could see the drug approved (compared to other trials which are looking at only one out of the two endpoints).
Summary
As NASH awareness grows, so too does the research into noninvasive diagnostic tools, as well the first approved therapy inching forwards. With these advancements patient care and quality of life can improve, alongside enhancements to the management of this public health issue.
---
Author
---