NASH 2018 Review: Improving Awareness and Potential New Therapies
by Jody Barbeau PhD, December 24, 2018 at 04:00 PM | Tags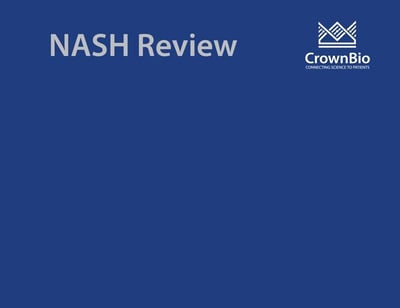 A look back at NASH over the course of 2018, with a focus on raising disease awareness and an update on clinical trial results.
The Fatty Liver Epidemic
When it comes to writing year-in-review articles, I normally write on Oncology, as this is my research background. But this year, it's the ongoing research and development in a metabolic disease that's really interested me – NAFLD/NASH.
It seems to have been a hot research topic, with even my mum telling me about the local university co-ordinated research she'd seen on the news.
Following the 'epidemics' we've seen in diabetes and obesity, non-alcoholic steatohepatitis (NASH) is the next major metabolic issue arising from the increase in sedentary lifestyles and high fat diets. As a 'silent' disease with no real symptoms, and currently no treatment options, 2018 has been the year of raising disease awareness and increasing drug development efforts.
First International NASH Day – Raising Disease Awareness
NASH is expected to become the number one cause of liver transplant by 2020 in the US, yet it remains a poorly-known condition. We were delighted to take part in the 1st International NASH Day back in June, which aimed to raise awareness of the disease.
As fatty liver and NASH are reversible in their early stages, it's really important to get the message out to make people at risk aware of the condition. On June 12th, multiple events took place in over a dozen cities worldwide as well as on a dedicated digital platform to spread the word. Everyone from the public, to at-risk patients, to the media and medical communities, were targeted with more information on NASH and how to prevent it.
It's important that drug developers not only look to treating disease but also help with communication and prevention. This is especially true for little-known conditions like NASH, where individual lifestyle changes could have big global effects.
Is An Approved NASH Therapy on the Way?
While there's currently no approved NASH treatment, there's a lot of ongoing trials and a race to be first to market. We've previously reviewed the main drug development race between Genfit, Intercept, and Novartis/Allergan.
Many researchers are looking to the Intercept obeticholic acid (OCA) data, with the interim analysis of the Phase 3 REGENERATE trial coming up in the first half of 2019. Intercept have just presented a whole new raft of data on OCA at The Liver Meeting® 2018, on safety and tolerability as well as features such as effect on lipoprotein metabolism.
At the same meeting, Genfit posted data updates for elafibranor and orally presented on their NASH diagnostic NIS-4 algorithm. Diagnosing NASH is tricky – currently confirmation needs to be by invasive liver biopsy, as no reliable blood tests or scans are available.
The NIS-4 non-invasive score is a potential NASH diagnostic, looking at the levels of four circulating biomarkers - miR-34a, Alpha2 macroglobulin, YKL-40, and HBA1c. At the meeting Genfit confirmed validation of the NIS-4 as "a powerful NASH diagnostic tool to identify patients with active NASH (NAS≥4) and significant fibrosis (F≥2)" for treatment.
New Potential Phase III Trials and Therapies Emerging
On top of the current Phase III trials, The Liver Meeting saw lots of positive Phase II data presented from:
MGL-3196, thyroid hormone receptor beta agonist agonist (Madrigal Pharmaceuticals).
VK2809, thyroid hormone receptor beta agonist (Viking Therapeutics).
GS-9674, FXR agonist (Gilead Sciences).
tropifexor, FXR agonist (Novartis).
NGM282, an engineered version of human hormone FGF19 (NGM Bio).
arachidyl amido cholanoic acid, fatty acid bile acid conjugate (Aramchol, Galmed Pharmaceuticals).
VK2809, thyroid hormone receptor beta agonist (Viking Therapeutics).
Madrigal has already announced plans to initiate a Phase III clinical program in NASH. Novartis is now pairing up with Pfizer's experimental agents in combination studies, as well as progressing tropifexor alone.
High Tide Therapeutics are also a new name to receive a FDA fast track designation for HTD1801 in NASH. The multifunctional oral therapeutic has completed its first human study, with a Phase II trial planned.
Roche has now joined the party as well with their Genentech unit buying Jecure Therapeutics, a San Diego Biotech with a portfolio of NLRP3 inhibitors, though these agents are only in preclinical development.
Summary
The ongoing race to the first approved NASH treatment has helped the disease become a breakout discussion topic. This is important as it allows more conversations around disease awareness, and potential improvements to currently invasive diagnostics.
I'm hopeful that this will lead to not only approved treatments, but also a wider NASH knowledge and a reduction in the population which needs treatment. I'm looking forward to an exciting 2019 of clinical trial data, partnering NASH events to help disseminate the latest research, and joining in the second NASH Day in June to continue to raise disease awareness.

---
Author
---