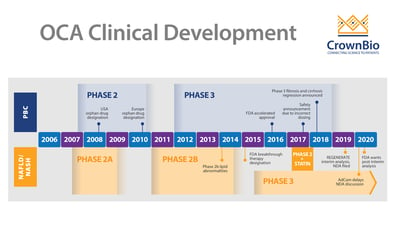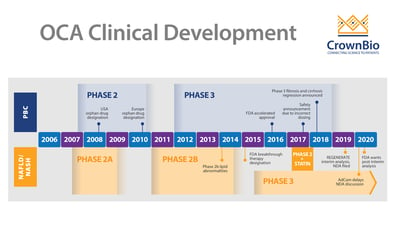 Review the history of obeticholic acid (OCA) from discovery and proof-of-concept, through clinical trials and approval for primary biliary cholangitis (PBC), to its ongoing trial for NASH.
The 2020 Obeticholic Acid NASH Approval Delay
The coronavirus pandemic disrupted the FDA regulatory approval process while thrusting two anti-infective drugs, hydroxychloroquine and remsdesivir, back into the biomedical media spotlight. Prior to March, however, another storied drug was becoming 2020's hottest pharma topic - obeticholic acid.
Intercept Pharmaceuticals' OCA (Ocaliva; INT-747; 6α-ethyl-chenodeoxycholic acid) already boasts a 2016 approval to treat the rare autoimmune disease primary biliary cholangitis (PBC). The FDA Advisory Committee (AdCom) was scheduled to convene on March 26 to review its use for nonalcoholic steatohepatitis (NASH), a much more prevalent illness influenced strongly by lifestyle and diet. Intercept was confident OCA would receive new drug approval (NDA) on an accelerated timeline based on strong interim Phase 3 trial results; speculators also anticipated a slam dunk approval of a first-in-indication drug, with blockbuster potential for sales.
As the pandemic worsened, the AdCom deliberation was delayed and redelayed into late June. On June 29, to the surprise of most observers, Intercept reported that the NDA decision was being effectively redeferred, without convening the AdCom, until long-term safety and endpoints data could be reported.
In this post, I'll take a look at the lead up to this decision, covering the background to OCA development, through approval for primary biliary cholangitis (PBC), and onto the current ongoing NASH trials and FDA review.
Nonalcoholic Fatty Liver Disease, Bile Acids, and the Farnesoid X Receptor
Nonalcoholic fatty liver disease (NAFLD) is characterized by accumulation of hepatic fat in the absence of specific causes of liver disease, including alcohol consumption and viral infection. This occurs as a result of increased de novo lipogenesis and impaired fatty acid oxidation and/or transport. NAFLD can advance to NASH: scarring of liver tissue caused by progressive hepatic fibrosis, which may ultimately lead to cirrhosis and liver cancer. Global prevalences of NAFLD and NASH are estimated at 25% and 3-5%, respectively. Pharmaceutical companies are in hot pursuit of the first approved drug for NAFLD/NASH to cash in on a lucrative market.
Bile acids are produced from cholesterol to aid in its excretion from the liver. As natural detergents, they aid in digestion of dietary lipids in the small intestine. They also function as sterol hormones through activating cell receptors, such as the farnesoid-X receptor (FXR). The original characterization and naming of FXR were flawed, as it only binds the molecule farnesoid at supraphysiological levels; it was later shown that agonism by bile acids occurs at physiological concentrations. FXR suppresses further synthesis of bile acids from cholesterol, and promotes their transport out of hepatocytes.
FXR has other roles that make it an appealing therapeutic target for metabolic and liver diseases. It triggers a signaling cascade that suppresses sterol response element binding protein 1 (SREBP-1), a key regulator of hepatic lipogenesis. This prevents hepatic lipid accumulation by promoting fatty acid oxidation and reducing liver lipogenesis. FXR also activates Short Heterodimer Protein, a key suppressor of fibrotic activity in hepatic stellate cells.
Discovery and Early Characterization of OCA
A series of semi-synthetic analogues of chenodeoxycholic acid, an endogenous bile acid, are generated by Pellicciari et. al. at the University of Perugia. One standout, 6α-ethyl-chenodeoxycholic acid, shows a nearly 100-fold greater FXR activating potency than its parent, with strong selectivity. It is also protective against hepatic necrosis and cholestasis in animal models of disease.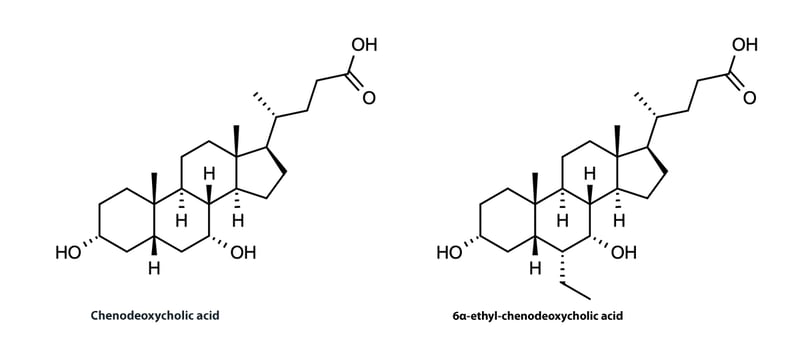 Creation of Intercept Pharmaceuticals and Early Proof-of-Concept Studies
Professor Pellicciari helps found Intercept in 2002 to demonstrate the therapeutic rationale for FXR agonism, advance INT-747, and develop a therapeutic research program dedicated to bile acid chemistry and FXR biology.
INT-747 provides many successful preclinical study outcomes, including reversal of biochemical and hormonal dysfunctions in models of diabetes, obesity, and NAFLD:
INT-747 also directly represses the degenerative processes underlying liver fibrosis:
Reducing liver expression of lipogenic and gluconeogenic genes, attenuating steatosis and histopathology in Zucker fatty rats
Reducing collagen gene expression in hepatic stellate cells and preventing hepatic fibrogenesis in a rat model of bile duct ligation
Phase 1 Studies
In 2006, INT-747 becomes the first FXR agonist to enter the clinic. Intercept announces successful completion of Phase 1a oral single dose tolerability studies and proceeds to Phase 1b in healthy volunteers. Intercept closes $41M in equity financing with intention to proceed to clinical studies in patients with PBC and other liver diseases.
Early Phase 2 Studies: PBC and NAFLD
In 2007, INT-747 is granted orphan designation by the FDA for treatment of PBC. This autoimmune disease is characterized by destruction of hepatic bile ducts and accumulation of bile in the liver, leading to inflammation, scarring, and cirrhosis. Intercept secures an additional round of equity financing worth $25M, helping to launch recruitment for three Phase 2 trials. Two studies focus on individuals with PBC, while the third recruits Type 2 diabetic patients with presumed NAFLD.
The Phase 2 PBC results are very favorable. Over 12 weeks, daily oral doses of INT-747, ranging from 10 to 50mg, significantly reduce levels serum markers of liver injury in PBC patients. These include primary endpoints alkaline phosphatase (ALP), and secondaries γglutamyl transpeptidase (GGT) and alanine aminotransferase (ALT). INT-747 is tested as a monotherapy and in patients already receiving ursodeoxycholic acid therapy, with comparable outcomes. INT-747 is well tolerated during a 12 month open label extension; the most common adverse reaction reported is pruritis, which is already a common symptom of PBC.
The six week diabetic NAFLD trial also yields promising results, including significant sensitization to insulin and reductions in GGT and ALT. Significant weight loss is achieved in the 50mg dosing group. The combined positive results from the Phase 2 trials enable Intercept to secure $25M Series B financing to kick of Q1 2010.
Phase 2b and Beyond: NASH and PBC
Intercept begins moving INT-747, now commonly known as OCA, into Phase 2b and 3 trials. In March 2011, the Farnesoid X Receptor Ligand Obeticholic Acid in NASH Treatment Trial (FLINT, 2b) begins recruiting patients with biopsy-confirmed evidence of NASH. In December of 2012, the Phase 3 Study of Obeticholic Acid in Patients with Primary Biliary Cirrhosis (POISE) begins recruiting patients with biopsy-confirmed PBC diagnoses.
Between trial launches, Intercept makes several key announcements regarding licensing and financing. An out-license agreement with Japan's Dainippon Sumimoto Pharma Co. is forged to develop and commercialize OCA in Japan and China. $30M in Series C financing is secured in August of 2012, and is closely followed by registration for an intial public offering.
In the FLINT trial, patients are given placebo or daily oral doses of 25mg OCA. The trial is ultimately ended early, at 72 weeks, ostensibly based on positive results. Primary outcome goals are reported: a decrease in biopsied NAFLD Activity Score (NAS) of at least two points (on an eight point scale) are confirmed in 45% of patients on OCA, compared to 21% in the placebo group. Improvements are seen across all criteria in the NAS scoring system. Intercept later announces that post-hoc analyses showed significant OCA group response rates in risk factors for disease progression, including fibrosis stage, co-morbid type 2 diabetes, insulin resistance and obesity.
Positive results of the FLINT trial are announced on January 9, 2014. Intercept's stock jumps from $72 to $497 overnight. After markets close on January 10, the National Institute of Diabetes and Digestive Kidney Diseases takes the unusual step of disclosing that significant lipid abnormalities were observed among the OCA group. This causes the stock to slump by $200 per share. Intercept's failure to disclose these findings sets the table for a massive settlement between Intercept and its shareholders.
More importantly, the documentation of lipid abnormalities establishes a lingering specter of safety concerns. A followup monitoring study reveals that OCA therapy in the FLINT trial was associated with increases in small VLDL particles, large and small LDL particles, and a reduction in HDL particles at 12 weeks. These lipoprotein concentrations reverted to baseline values 24 weeks after drug discontinuation, and suggests that OCA may need to be prescribed in combination with statins to be safe for NASH therapy.
In the 12 month POISE trial, patients are given placebo, daily oral doses of 10mg OCA, or 5mg titrating toward 10mg. Primary outcome goals are robustly achieved. A highly significant reduction in ALP and bilirubin, surrogate indicators of liver disease, are achieved within as little as two weeks. Benefits are dose-dependent, and conferred to placebo patients when they are transferred to OCA treatment in a 12 month open label extension. Other secondary endpoints are also met, including reductions in GGT, ALT, and AST.
Phase 3 for NASH and Approval for PBC
In January 2015, Intercept announces that OCA receives "breakthrough therapy designation" from the FDA for treatment of NASH. This is based on the strength of its Phase 2 trials, including FLINT. The designation allows for expedited development and review of new drugs for serious or life-threatening unmet medical needs.
Intercept announces they are recruiting for their Phase 3 NASH trial: Randomized Global Phase 3 Study to Evaluate the Impact on NASH with Fibrosis of Obeticholic Acid Treatment (REGENERATE). This study is large, ultimately enrolling 2480 participants comprising NASH subjects with stage 2 or 3 fibrosis. Primary outcome goals are improvement of fibrosis staging by one point and/or improvement of NAS score by two points, without worsening of the other. Interim evaluation date is set for 72 weeks.
With this pivotal Phase 3 NASH trial in the works, the FDA grants accelerated approval to OCA for the treatment of PBC in May 2016. It enters the market under the commercial name Ocaliva®. Long-term improvements to survival, progression to cirrhosis, and other treatments have not been demonstrated at the time of approval. These will be ultimately confirmed in 2019 upon the conclusion of the open label extension of POISE: five year OCA treatment in patients with PBC is associated with improvements or stabilization of disease features, including ductular injury, fibrosis, and collagen morphometry.
A Phase 2 is completed to study management of lipoproteins during OCA treatment: Combination Obeticholic Acid (OCA) and Statins for Monitoring of Lipids (CONTROL). This shows that OCA-induced increases in LDL can be mitigated with atorvastatin, and the combination is generally safe and well tolerated.
Not all news is good, however. In September 2017, the FDA issues a safety announcement about reports of serious liver injury or death associated with Ocaliva use. These include cases of worsening of hepatic impairment due to PBC and cardiovascular disease. Intercept determines patients are being incorrectly dosed on a once daily instead of twice weekly basis and issues clarified label dosing guidelines to physicians.
NDA Filing and AdCom Deferral
Positive interim results of REGENERATE are announced in September 2019. Intercept files a NDA for treatment of NASH, touting that OCA is the only investigational therapy to meet the primary endpoint of a Phase 3 study for this indication. Dosing at 25mg achieved the primary endpoint by demonstrating robust improvement in liver fibrosis (by ≥1 stage) without worsening of NASH (p=0.0002 vs placebo). Other key markers of NASH disease activity (ALT, AST, GGT, ALP) are also reduced. NAS score improvement, however, is not achieved. Additionally, pruritis rates in the 25mg group are high (51%, vs. 19% in the placebo group).
The FDA accepts the NDA and sets an accelerated target action date of March 26, 2020, adding that it plans to have a nonbinding AdCom meeting prior to that date. On March 26, Intercept announces that the emergent COVID19 pandemic has delayed the AdCom meeting to June 9 (from a previously delayed date of April 22). The redelay becomes indefinite: Intercept announces on June 29 that they have received a complete response letter, stating the Agency will not convene the AdCom, and has determined that the predicted benefit of OCA does not sufficiently outweigh the potential risks to support accelerated approval for NASH. Intercept is advised to submit additional post-interim data from REGENERATE to continue the long-term outcomes phase of study.
Market Share
The current list price for Ocaliva is $79K per PBC patient per year. A simulation estimated that this new standard of care increases the lifetime cost of PBC treatment from $63K to $902K over the previous standard of treatment, ursodeoxycholic acid. This translates to a steep hike of $473K per quality-adjusted life year gained, a price tag many hope can come down if OCA can become a standard treatment for the more prevalent NASH patient population. Despite high cost, lingering safety concerns, and limited patient pool, full year Ocaliva net sales were $177.8 million in 2018, and $129.2 million in 2017. Approval for the NASH market would almost certainly push these figures into the billions.
What's Next for Obeticholic Acid? And Current State of the NASH Drug Development Market
OCA is still considered the front-runner in the race for our first NASH therapeutic, but may be in for a long delay for approval, if benefits can be shown to outweigh safety concerns. Intercept has declared that it would like to meet with the FDA as soon as possible to discuss a path forward.
As for Intercept's challengers: the field is crowded, but attrition is high. Shareholders may take comfort in the misfortunes of the former perceived runnerup: Genfit announced pivotal Phase 3 study failure for its dual peroxisome proliferator-activated receptor agonist, elafibranor. The flop in this trial, which had similar target primary outcomes and treatment durations to REGENERATE, effectively relegates elafibranor to the graveyard of failed NASH drugs.
Other Phase 3 aspirants include Allergan's cenicriviroc, a chemokine receptor inhibitor; topline data expected in Q4. Galmed is in recruitment stages for a Phase 3/4 trial for their fatty acid bile acid conjugate aramchol. Finally, Madrigal recently posted preliminary data for their thyroid hormone receptorβ agonist resmetirom, including reductions in liver fat after 12 weeks.
In the meantime, OCA has undergone, or is currently in, Phase 2/3 clinical trials for a variety of other metabolic diseases, though none may be as lucrative as NASH. These include portal hypertension (PESTO), bile acid diarrhea (OBADIAH), primary sclerosing cholangitis (AESOP). Additionally, Intercept has recently completed enrolment for a Phase 3 trial for NASH with diagnosed cirrhosis (REVERSE).
---
Author
---