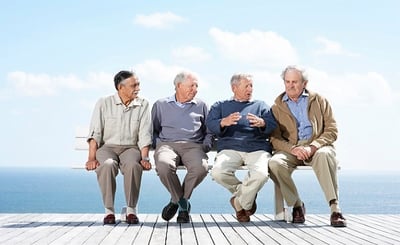 Chronic lymphocytic leukemia (CLL) is a cancer type mainly seen in elderly people, with the average age of diagnosis being 72 years old. However, elderly patients have been underrepresented in CLL clinical trials, and the current gold standard treatment of chemoimmunotherapy is only viable for physically fit people under 65, which rules out the majority of CLL patients. With a high unmet need for improved therapies in CLL, Crown Bioscience reviews the emerging treatment options and whether they offer new hope for older patients.
CLL is the most common type of leukemia in the Western world, making up one third of all leukemia cases. In the US alone, there are expected to be around 16,000 new cases of CLL in 2014 with 4,600 deaths from the disease. As the name suggests, in CLL it's a patient's lymphocytes (specifically B cells) that become cancerous, with the disease developing slowly and, in 25% to 50% of cases, presenting without symptoms at diagnosis. CLL is rarely seen in people younger than 40, with the majority of cases being diagnosed in people over 60 years old.
Historically treatment for CLL was palliative, using various non-targeted chemotherapy drugs to help relieve symptoms, but with real no impact on survival or on the underlying disease. Over the past decade massive steps forward in CLL treatment have taken place, meaning that for some patients complete remission and improved survival is now possible. The gold standard treatment when CLL symptoms do present is chemoimmunotherapy, combining the targeted monoclonal antibody rituximab (which binds to CD20 surface antigens and results in the rapid and robust depletion of malignant B cells) with the chemotherapy drugs fludarabine and cyclophosphamide (named FCR). Rituximab shows synergistic activity when added to the chemotherapies and the FCR regimen has shown considerable improvement in survival of previously treated and untreated CLL patients.
The major problem with the FCR regimen is that it can only be given to physically fit patients, and has been designated first-line standard of care only for patients aged 18 to 65. With the average age of CLL diagnosis being 72 years, and average age for first treatment 74, FCR use is actually limited or not appropriate in the majority of CLL cases due to age, or also comorbidities, and high risks factors for side effects. There are currently limited treatment options for this large number of patients, creating high unmet need for new therapies. These might be arriving rapidly, as new classes of agents look to revolutionize how we treat older patients with CLL, and CLL in general.
Ibrutinib (PCI-32765) is an oral first-in-class Bruton's tyrosine kinase inhibitor, which blocks signals that stimulate malignant B cells to grow and divide uncontrollably. Ibrutinib as a single agent in CLL was approved by the FDA in February this year following accelerated review, to treat patients with relapsed/refractory disease. In older patients with disease progression, ibrutinib has demonstrated high response rates and good tolerability. Clinical trials are also being carried out to test ibrutinib as first-line treatment specifically in older populations. Results were presented at the ASCO conference this year from a Phase IB/II study, focusing on untreated patients where 74% of those trialed where over 70. A high overall response rate was seen from single agent ibruitnib (with no side-effect inducing chemotherapy needed) including 65% partial response and 8% complete remission.
A potential competitor for ibruitinib is idelalisib (GS-1101) - another agent that could work well in elderly patients without the need for chemotherapy. The drug is a first-in-class oral PI3K inhibitor which blocks critical signaling needed for the activation, proliferation, survival, and trafficking of B lymphocytes. Phase III trials of idelalisib included a combination study with rituximab in treated CLL patients who were not fit for further chemotherapy, which went so well that it was stopped early due to a highly statistically significant effect on patients' progression-free survival. Idelalisib is currently also being trialed as a first-line CLL treatment, specifically in older groups of patients. Idelalisib received a Breakthrough Therapy designation in CLL from the FDA and was approved in July this year for relapsed CLL patients, specifically for use in patients with other existing medical conditions and comorbidities who would previously have been considered for single agent rituximab treatment.
Following FDA approval, the Committee for Medicinal Products for Human Use in Europe has also recommended granting both idelalisib and ibrutinib marketing authorization in relasped CLL and as a first-line treatment for patients with mutations which mean they can't be given chemoimmunotherapy.
Crown Bioscience welcomes these novel therapy options, and hopes that they bring improvements to the treatment and survival rates of all of the people living with CLL, including elderly patients.
Crown Bioscience supports CLL research through the use of our clinically relevant Xenograft models available for drug discovery and translational sciences. Contact us today at busdev@crownbio.com to discover how we can transform your CLL research.
---
Author
---