Polycystic Kidney Disease (PKD): The Argument for Multiple Rodent Models
by Judith Gorski PhD, July 27, 2017 at 05:07 PM | Tags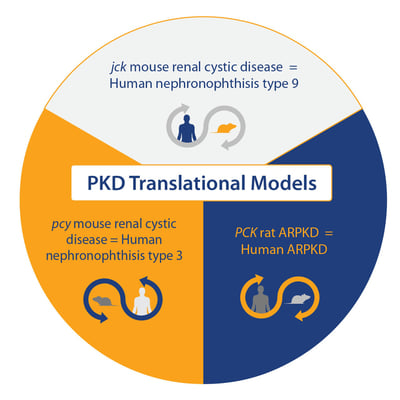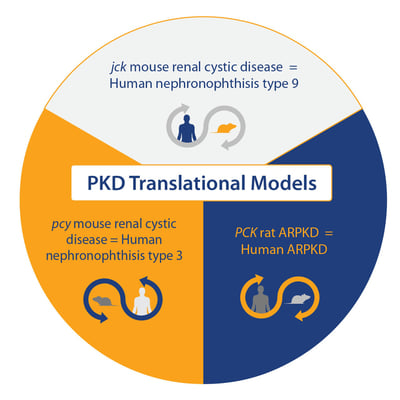 Rodent models of PKD are critical to studying both its molecular basis and progression, but the complexity of Polycystic kidney disease's cellular alterations and signaling pathways make the leap from preclinical studies to approved treatment of human disease almost impossible. The use of multiple animal models in parallel may be the most effective strategy.
Multiple rodent models - including spontaneous mutations and knock out mouse models - have provided insight on the pathogenesis of PKD.
Choosing Appropriate
Polycystic Kidney Disease

Models

Preclinical animal models of PKD vary based on:
Rate of the disease progression
Age of the disease at onset
Gene (or genes) associated with disease progression
Number of affected cells
Extent of inflammation and fibrosis.
These characteristics can be assets, or liabilities, depending on the goals of your study.
Non-Pkd1/Pkd2 Models of PKD
PKD models can be categorized as Pkd1/Pkd2 and non-Pkd1/Pkd2 models. The Pkd1/Pkd2 models have mutations in either Pkd1 or Pkd2, comparable to the human disease.
The non-Pkd1/Pkd2 models carry mutations in renal cystic disease genes other than Pkd1 or Pkd2, such as Pkhd1, the causative gene in human autosomal recessive PKD (ARPKD). One such model is the PCK rat, which carries a spontaneous mutation in Pkhd1 and develops progressive renal and hepatic cystic disease with mild portal fibrosis.
By contrast, most of the genetically engineered mouse models of ARPKD seem to be protected from renal cyst formation and have only mild tubular dilations with increasing age, although they have a strong hepatic cystic disease1.
Two mouse models associated with the same genes that cause human nephronophthisis are the jck mouse and pcy mouse. Both models develop a slow progressing renal cystic disease, though the mechanism of pathogenesis varies.
The jck mouse model develops renal cystic disease associated with the same gene that causes human nephronophthisis type 9, with renal cysts in multiple regions of the nephron.
In contrast, the pcy mouse model develops renal cystic disease associated with the same gene that causes human nephronophthisis type 3. In this model, the renal cysts that develop initially in the collecting tubules, but as the disease progresses other areas of the nephron become cystic.
The Argument for Parallel PKD Studies
While rodent models of PKD vary in the genetic mechanisms of pathogenesis, they share common cellular pathways and final disease states. For example, both the pcy mouse and PCK rat respond to vasopressin receptor antagonists, suggesting a common downstream pathway in ameliorating the disease2,3.
Overall, a comprehensive characterization of different models in parallel might be required for insight into these common pathways.
References:
Gallagher et al. Biliary and pancreatic dysgenesis in mice harboring a mutation in Pkhd1. Am J Pathol 172, 417–429 (2008).


Wang et al. Effectiveness of vasopressin V2 receptor antagonists OPC 31260 and OPC 41061 on polycystic kidney disease development in the PCK rat. J Am Soc Nephrol 16, 846–851 (2005).



---
Author
---