Recent Type 2 Diabetes Publication Demonstrates Preclinical Study Benefits of Continuous Glucose Monitoring
by Judith Gorski PhD, August 31, 2017 at 02:56 PM | Tags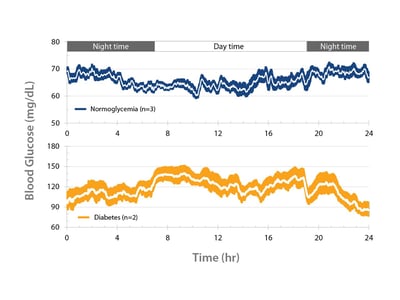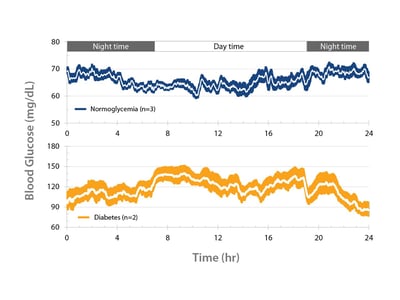 Daily Blood Glucose Fluctuations in Normal and Diabetic NHPs
from Wang et al. J Endocrinol Invest 2017;40(9): 967-977.
Hypoglycemia has long been recognized as a major barrier to achieving normoglycemia with intensive therapy, and has therefore been investigated in terms of its impact on counter regulatory mechanisms as well as cognitive function1,2. Moreover, repeated bouts of hypoglycemia can lead to hypoglycemia unawareness, whereby the brain and the body no longer show warning signs of low blood sugar, such as shakiness or irregular heartbeats.
There is also the impact on healthcare costs for reoccurring events requiring repeated medical attention and emergency room visits. A meta-analysis review looking at the prevalence and incidence of hypoglycemia in over 500,000 people with type 2 diabetes found hypoglycemia was prevalent amongst those on insulin; for mild/moderate episodes the prevalence was 50% and incidence 23 events per person-year, and for severe episodes the prevalence was 21% and incidence 1 event per person-year.
Clinical Blood Glucose Levels are Generally Measured by Conventional Systems
Long-term and remote glucose monitoring in diabetic patients, or in preclinical research, is very challenging. Conventional glucose monitoring systems, such as a handheld glucometer, clinical chemistry analyzer, or analox analyzer, are generally used for blood glucose measurement.
A Clinical Continuous Glucose Monitoring System is FDA Approved
Clinically, the FDA-approved Continuous Glucose Monitoring (CGM) system (Dexcom G4 PLATINUM Continuous Glucose Monitoring System, Dexcom, Inc.) can frequently sense interstitial glucose in diabetic patients to inform on exogenous insulin delivery timing and dosage.
The advantages of the clinical CGM system (subcutaneously) are ease of installation, cost savings, less invasive, and a more acceptable safety profile which benefits patient use.
Challenges Faced in Moving the Clinical System to a Preclinical NHP Setting
The use of an implanted telemetry device for continuous glucose monitoring has been limited in biomedical, preclinical research, especially in large animals. The challenge with using the clinical CGM system in large animal research, particularly in physically active NHPs, is the fixation of a subcutaneously inserted sensor for stable data collection.
New Publication Reports on an Optimized Preclinical Device
To stabilize the implanted sensor and to avoid any delay of glucose reading, Wang et al used an implanted HD-XG telemetry device (Data Sciences International, Saint Paul, MN, USA) to access arterial vasculature which secures well, and provides real-time blood glucose information. The HD-XG implantable glucose device also provides continuous measurement of temperature, as well as locomotor activity.
Many Advantages over Conventional Blood Glucose Measurement
The advantages to using the device in NHPs is the ability to investigate real-time changes of blood glucose during circadian, meal, stress procedures, and drug exposures in conscious, moving-free cynomolgus NHPs (Macaca fascicularis).
Furthermore, this type of 'around the clock' real-time measurement of blood glucose in unstressed, moving-free animals provides a unique advantage in preclinical research. The conventional methods which provide periodical sampling may possibly miss some critical data points during sampling intervals, such as during evening hours.
Continued Research Needed to Reduce Hypoglycemia Risk
Overall, the HD-XG telemetry method is a successful tool in large animal research to continuously monitor and record real-time blood glucose, allowing researchers to discover blood glucose circadian and changes due to physical activities or natural behaviors, such as eating and sleeping, as well as stress or drug interventions.
This platform highlights the subsequent need for continued preclinical research for interventions and therapies to reduce the risk of hypoglycemia in both Type 1 and 2 diabetic patients.
References and further reading on hypoglycemia:
American Diabetes Association. Standards of medical care in diabetes—2010. Diabetes Care 2010;33(Suppl. 1): S11–61.

---
Author
---