Patient-derived 3D ex vivo platforms are playing an increasingly important role in drug discovery. These translational platforms are high-throughput and highly clinically relevant because they accurately recapitulate the heterogeneity and molecular/genetic complexity observed in human tumors, including intact endogenous immune cell populations, fibroblasts, and other stromal components.
Crown Bioscience's webinar, "Elevate Your Insights into the Tumor Microenvironment: 3D Ex Vivo Patient Tissue Platform", discussed many important topics, including how this platform can be leveraged to evaluate monotherapy and combination drug responses in patient tumor samples with endogenous tumor microenvironment (TME) cell populations intact.
This blog post explores the value of 3D ex vivo patient tissue platforms in drug discovery and addresses key questions that arose from the webinar.
The Value of 3D Ex Vivo Platforms in Drug Discovery
The 3D ex vivo patient tissue platform can improve clinical success rates because it relies on patient-derived tumor samples—isolated from biopsies, surgical resections, ascites, and pleural effusions—that are highly predictive of tumor response to drug candidates. Its possible applications are wide ranging, but many researchers are using it to measure oncology and immuno-oncology drug-induced tumor killing and endogenous immune cell proliferation.

Furthermore, pairing the 3D ex vivo patient tissue platform with automated high content imaging and image analysis allows for measuring more than 500 phenotypic changes to provide a highly comprehensive evaluation of response to treatment at different doses, combinations, and timepoints simultaneously. Overall, this translational system provides reliable, reproducible data that is clinically relevant and can support important decisions throughout your drug discovery and development workflow.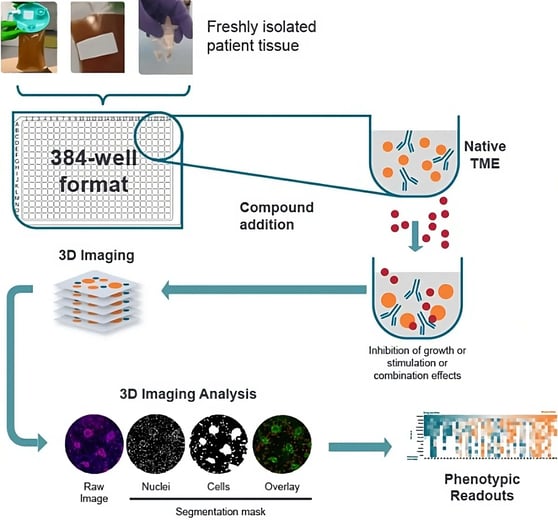 Figure 1: 3D Ex Vivo Patient Tissue Assay Principle.
Webinar Recap: Key Questions and Answers
Are all patient samples at the same cancer stage?
No. We receive samples from all different stages. For optimal tumor viability, the samples are from patients who are treatment naive or have not received treatment over the past 6 months.


Is the same matrix used for all samples?
Our proprietary platform uses an optimized matrix composition that is applicable for almost all tumor types tested to date. However, the specific media composition tends to vary by indication.


How often are new samples received?
This largely depends on the indication. For instance, our trusted and accredited tissue providers are able to provide 2–3 NSCLC samples per week. For rarer indications, such as melanoma and glioblastoma, we typically receive 1–3 samples per month.


Have approved immuno-oncology drugs been tested using the 3D ex vivo patient tissue model?
Absolutely. The majority of clinically approved checkpoint inhibitors have been tested, including pembrolizumab, ipilimumab, nivolumab, durvalumab, atezolizumab, and ADU-S100.


Regarding preselection markers—if a selection marker is not available in the clinic, can this be evaluated later during the culture process in order to assess it?
Yes. A piece of the original tumor sample can be used for additional characterization, such as IHC, FACS, or sequencing.


What turnaround time can I expect for a typical drug testing assay?
On average, it takes 8–10 weeks from the time of first drug exposure to final reporting. The actual assay time is relatively short. However, a significant amount of time is required for other steps, such as fixation and staining, imaging, image analysis, data analysis, and development of the final report. Quality control is also evaluated at every step.


Can co-cultures of matching organoids and TILs be generated from the same tumor Sample?
Our ex vivo patient tissue platform uses only fresh patient material that contains all the endogenous components of the tumor microenvironment. Crown Bioscience's IO team is working to develop matching organoid-TIL co-cultures.


Can patients be preselected based on specific selection criteria, such as EGFR expression?
This is only possible if the biomarker is routinely evaluated in the clinic, such as ER, PR, and HER2 in breast cancer. While it is less common, EGFR expression is possible because it is used for some cancer types.


How are patient samples transported to ensure sample integrity is maintained?
Samples are cold shipped in a medium that preserves cell viability, such as Aqix or HypoThermosol.


Can we run a repeated assay on cryopreserved material?
This is theoretically possible, but the nature of the compounds must be considered. For instance, testing IO compounds on cryopreserved material is not recommended because the integrity of immune cell subsets, such as macrophages, is known to be lost/depleted with freezing/thawing.


Have additional questions about the 3D Ex Vivo Patient Tissue Platform and how it can help you reach your research goals? Contact us to discuss your project and how we can support your needs.