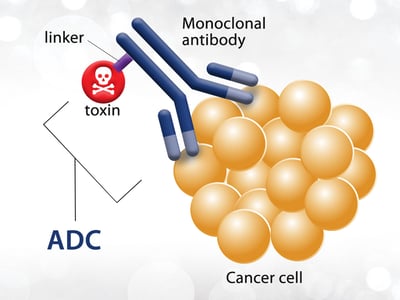 This post explores the fast-expanding topic of antibody-drug conjugates (ADCs), including those that have been approved to date and recent and future innovations that may come to bear on ADCs.
ADCs: Concepts and Challenges
ADCs represent a rapidly expanding class of anticancer agents. While Pfizer's Mylotarg was the first ADC to gain FDA approval in 2000, serious safety concerns led to its withdrawal from the market in 2010. Despite this preliminary setback, Mylotarg has re-achieved marketing approval and today, there are ten FDA-approved ADCs on the market.
ADCs represent a unique class of hybrid drugs with three key components: a monoclonal antibody (mAb), a cytotoxin, and a linker molecule that joins the two together. By exploiting the highly specific binding properties of mAbs, potent cytotoxic agents can be selectively targeted and delivered to tumors. This method contrasts with traditional chemotherapies that are non-targeted and non-specific. ADCs' targeted approach increases the therapeutic index of cell-killing agents for treating cancer and enhances safety by reducing off-target treatment side effects.
The three components of an ADC and the biologic properties of the cell-surface target antigen are important elements when designing a maximally effective anticancer agent. The classic internalizing ADCs that are currently approved are engineered to specifically deliver highly potent cytotoxic agents to cancer cells that are positive for the targeted antigen. Most ADCs use cleavable linkers that release the cytotoxin once lysosomal internalization occurs due to changes in the surrounding environment, such as the presence of specific proteases and changes in pH. The released drug kills antigen-positive tumor cells, but it may also diffuse out of the target cell and kill antigen-negative tumor cells (the "bystander effect"). In contrast, ADCs with a non-cleavable linker are more likely to kill only target antigen-positive cancer cells; the mAb, and not the linker, undergoes degradation, and since the released drug contains a polar amino acid (from the antibody to which the linker-payload was conjugated), its ability to pass through the cell membrane is severely compromised.
Although ADCs represent an exciting class of anticancer agents, several challenges are hindering their wider development and adoption. These include drug stability, which is a critical issue for optimal storage, patient delivery, efficacy, and safety. Stability poses a significant issue, especially if the drug payload is released prematurely at off-target sites, which can result in toxic off-target side effects. Physical instabilities may also be introduced during manufacturing (e.g., the conjugation process or temperature and light exposure), and these can lead to aggregate formation and diminished drug activity. Even under ideal conditions in which the ADC drops its payload in the tumor, the cytotoxic agents are known to undergo some baseline level of systemic absorption. Without efficient breakdown, the toxin can accumulate in the bloodstream, causing the side effects typically associated with systemic chemotherapy.
Another challenge for ADCs centers on the need for methods to identify the specific patients who are most likely to benefit. Although target antigen expression remains an obvious and important biomarker criterion for patient selection, ADCs have also been effective in patient populations shown to express low levels of the target antigen. Thus, the minimum levels of target antigen expression required for therapeutic efficacy needs to be better understood. The impact of intratumor heterogeneity on antigen expression, and the dynamic changes in expression with treatment and disease progression, are also important considerations.
Finally, resistance remains a major obstacle for all anticancer treatment strategies, including ADCs. Identifying the mechanisms of primary and acquired resistance is not trivial, given their high molecular complexity and that both the mAb and toxic payload could be involved. Downregulation of the target antigen and/or increased expression of multi-drug efflux transporters have been reported in ADC-resistant cancer cells.
Despite these challenges, drug developers are overcoming these common issues as evidenced by the multiple recent FDA approvals and large investments in this category (see next section). A key component to defeating these challenges is to develop a comprehensive preclinical strategy addressing the mechanisms of action, efficacy, toxicity, and biomarker strategy for the novel ADC. Engaging with an experienced preclinical partner early in development can maximize the chances that your ADC will be successful in the clinic.
Commercially Available ADCs
Ten ADCs have been approved by the FDA for clinical use. These drugs target a variety of antigens and cellular pathways and deliver different cytotoxic payloads. Lumoxiti®, a recombinant linkerless ADC (often referred to as an "immunotoxin" and generated by the fusion of an antibody fragment with a truncated toxin), has also been approved.
ADC Name and Approval Date
Target Pathway
Payload
Approved Indication(s)
Belantamab mafodotin-blmf (Blenrep®, approved 2020)
B-cell maturation antigen
Auristatin (microtubule inhibitor)
Relapsed or refractory multiple myeloma
Sacituzumab govitecan-hziy (Trodelvy™, approved 2020)
TROP-2
SN-38 (topoisomerase inhibitor)
Triple-negative breast cancer
Trastuzumab deruxtecan (Enhertu®, approved 2019)
HER2
Deruxtecan (topoisomerase inhibitor)
HER2-positive breast and gastric cancers
Enfortumab vedotin
(Padcev™, approved 2019)
Nectin-4
Auristatin (microtubule inhibitor)
Advanced bladder cancer
Polatuzumab vedotin
(Polivy™, approved 2019)
CD79b
Auristatin (microtubule inhibitor)
Lymphoma
Moxetumomab pasudotox-tdfk (Lumoxiti®, approved 2018)
CD22
Pseudomonas exotoxin A (PE)
Leukemia
Inotuzumab ozogamicin (Besponsa®, approved 2017)
CD22
Calicheamicin (DNA cleavage)
Leukemia
Gemtuzumab ozogamicin (MyloTarg®, approved 2000/2017)
CD33
Calicheamicin (DNA cleavage)
Leukemia
Trastuzumab emtansine (Kadcyla®, approved 2013)
HER2
Maytansine (microtubule inhibitor)
HER2-positive breast cancer
Brentuximab vedotin
(Adcetris®, approved 2011)
CD30
Auristatin (microtubule inhibitor)
Lymphoma
ADC research and development is expanding and evolving at an incredible pace, for both hematological and solid tumors, mostly in patients with advanced disease (typically second-line therapy or greater). Some of the recent and major updates were provided at the virtual ASCO 2020 meeting.
The "ADC renaissance" has led analysts to estimate that the ADC market will reach over $13 billion USD by 2026. This view has also been reflected in the flurry of ADC-related transactions, including Merck's $1.6 billion licensing deal for Seattle Genetics' ADC ladiratuzumab vedotin and their buyout of VelosBio (giving Merck access to its anti-ROR ADC), Gilead's $21 billion acquisition of Immunomedics, which includes their first-in-class anti-TROP-2 ADC, and Boehringer Ingelheim's acquisition of NBE Therapeutics for $1.2 billion.
Globally, an estimated 297 ADCs are in development, with "tubulin modulator" agents dominating the pipeline. One study estimated that ~80 ADCs are being actively investigated in clinical trials, including at least six in Phase 3 studies.
Conclusion
While ADCs are not new from a conceptual perspective, a renewed interest and investment in this important category of drugs is now paying off – with five of the ten approved ADCs gaining FDA approval in the past two years, and decisions on at least one or two more expected in 2021. Early setbacks led to developing improved bioconjugation methods, advanced antibody engineering technologies, and cytotoxic agents with enhanced stability and safety profiles. Target antigen selection has also improved by leveraging our growing understanding of cell and tumor biology. Together, these innovations have led to an ADC renaissance that has opened potential new avenues for treating cancer patients.