First Cancer Drug Approval Based on Biomarkers, not Tumor Location
by Ludovic Bourré, PhD, June 8, 2017 at 12:00 AM | Tags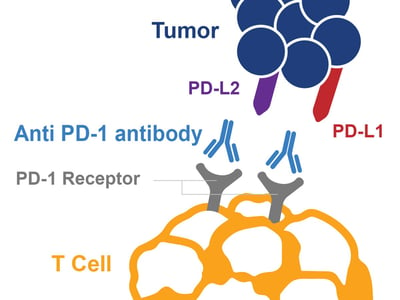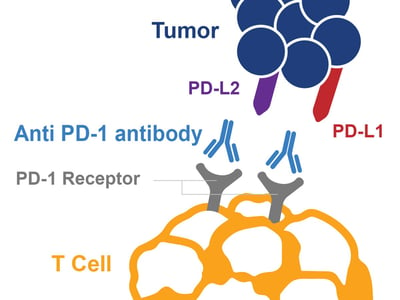 For the first time in their history, the U.S. Food and Drug Administration has approved a cancer treatment based on a biomarker regardless of the origin of disease. The agency granted an accelerated approval to Keytruda® (pembrolizumab, Merck) for the treatment of adults and children with unresectable solid tumors who have specific genetic biomarkers, known as microsatellite instability-high (MSI-H) and DNA mismatch repair (dMMR), and where tumors have progressed following prior therapy or there are no satisfactory treatment alternatives.
Keytruda is a programmed death receptor-1 (PD-1)-blocking antibody that helps the immune system fight cancer by blocking a mechanism that tumors use to evade detection. It has been previously approved to treat a variety of cancer types including advanced melanoma, advanced non-small cell lung cancer, head and neck cancers, urothelial carcinoma, and classical Hodgkin lymphoma.
New Approval in Tumors with DNA Repair Defects
MSI-H and dMMR tumors have lost the ability that cells normally use to repair their own DNA errors. Without that ability, cells with DNA defects can proliferate and turn into cancer. However, the higher mutational load in patients with MSI-H or dMMR tumors is believed to correspond to an increased frequency of neo-epitope formation and tumor immunogenicity. Tumors with higher neoantigen load may therefore be more susceptible to treatment with immune checkpoint inhibitors, such as PD-1 and PD-L1 blockers.
MSI-H and dMMR cells can be found in patients with several tumor types, including colorectal, endometrial, and stomach cancer, so this new approval could help many patient groups. For example, around 5% of patients with metastatic colorectal cancer have MSI-H or dMMR tumors.
Accelerated Approval Based on Phase I/II Data
The approval was based on the results of 5 open-label, Phase I/II clinical trials in 149 patients with 15 different tumor types characterized by MSI-H or dMMR, and who received Keytruda. Among these patients, 39.6% had a complete or partial response, and in 78% of these patients, the response lasted for six months or more.
"Until now, the FDA has approved cancer treatments based on where in the body the cancer started - for example, lung or breast cancers," said Richard Pazdur, Head of Oncology Products for the FDA's Center for Drug Evaluation and Research. "We have now approved a drug based on a tumor's biomarker without regard to the tumor's original location."
Major Step Forward for Personalized Medicine
This biomarker-based approval constitutes a major step with multiple implications in the field of personalized medicine and precision oncology, where genetic biomarkers may be used to determine the course of therapy rather than the cancer type.
Read more on this story from Nature News
---
Author
---