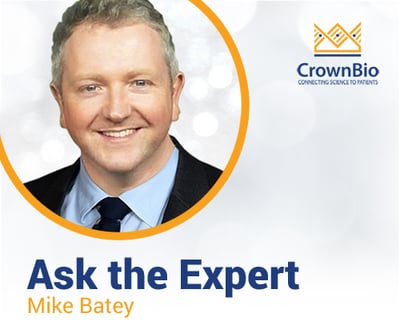 Review key questions on preclinical biomarker discovery from our recent webinar, answered by Mike Batey.
Biomarker Identification from In Vitro Screens
For In Vitro Screens – Are Cell Lines Patient Derived, and Do You Correlate with Patient-Derived Cells?
The cell lines typically used are those common to cancer therapeutic testing, and available from providers such as the ATCC. We can also use cells taken from patient-derived xenograft (PDX) models in vitro. PDX are derived from patient tissue and propagated in mice, and are therefore closer to the clinical situation.
We've also recently launched an organoid platform which can be used for initial screening, including organoids derived from PDX and directly from clinical patient material. This provides a translational bridge from in vitro screening to in vivo testing.
How Likely is it That a Biomarker Discovered in the In Vitro Stage is Translated to the Clinic?
The discovery of a biomarker with clinical utility is feasible at the preclinical stage, by using PDX in both in vivo and in vitro experimental systems. The key factors for success are:
Commitment to biomarker discovery at an early stage
Access to a wide number/range of PDX, with available molecular characterization and which replicates clinical diversity
Appropriate selection of PDX models based on molecular data and/or a biomarker hypothesis generated using in vitro data
Using Translational PDX Models and Mouse Clinical Trials in Biomarker Discovery
How Valuable do you Feel Data from a Single PDX Model Are?
Individual PDX models with particular genetic profiles can be very informative on drug mechanism of action. For mouse clinical trials, several different PDX models are run and it is the result from the whole clustered study rather than individual PDX which holds most value.
How Many PDX Models or Cell Lines do we Need to Use to get a Meaningful Result?
This can depend on a number of factors including the question being asked, however we have in the past ran successful studies using 30-40 cell lines, and as few as 21 PDX models.
What is the Ideal Number of Mice/Group in an MCT?
This varies from study to study but typically we would use 2/3 mice per group. Our published MCT paper goes into a lot of detail as to the appropriate design and use of MCTs.
Is the Broadness in PDX Models Good Enough to use the Outcome for Patient Selection/Stratification. For Instance, Genetic Heterogeneity in AML is High. Is that Appropriately Represented in AML PDX Models you Have at CrownBio?
This depends on the disease type. For several cancers, such as colorectal, we have a large number of models available. For AML, we only have a limited number of models which may not fully reflect patient heterogeneity.
Where are Your PDX Models from for MCTs?
From the CrownBio PDX bank, which can be easily searched online to review the wide model collection available.
Are your Tumor Volumes Analyzed by Personnel Blind to Treatment? What are Groups Sizes for your In Vivo Models (Power, Effect Size)?
We do have the ability to run our tumor models blind to treatment group and independent of dosing. Group sizes for in vivo studies vary according to the question being asked, the robustness of the model being run, and the power required. For a typical PDX we can go as low as 3 animals per group, with the typical range being 5-8.
How do you Test Resistance for Drugs?
Typically, a PDX model (or cell line) will be exposed to a relevant concentration of drug on a relevant dosing regimen, and response measured.
New Strategies to Overcome Challenges in Biomarker Discovery
Discovery, Development, Validation, up to Implementation of Biomarkers in Clinical Settings is Long and Complex. What New Strategies and Applications Exist to Adopt more Biomarker-Driven Clinical Trials?
Our platform can support drug discovery and development right from the in silico stage, through in vitro and in vivo, and with our sister company MBL, take a discovered biomarker right through to the clinic. This is a complex process, but with in-house expertise you can be supported through every step.
What is the Most Challenging Task when you Take Biomarkers for Clinical Evaluation?
Translating a preclinical biomarker into the clinical space comes with multiple challenges. Key to making this as smooth a process as possible is being mindful of the intended usage of your biomarker in clinic, and ensuring that the biomarkers you choose in the preclinical space for further development have clinical relevance.
Operational Questions in Biomarker Discovery
If We Do Not Want to Disclose the Drug Identity and Target, can you still Perform Biomarker Discovery?
Yes, we can, and have several examples where we have done this in the past for customers (one of which is included within our webinar). This utilizes hypothesis-free biomarker discovery which can be performed without any knowledge of the drug or mechanism of action, and is not limited by patient heterogeneity.
Do we Have to Conduct Lab Work, or can we use Historical Data, or Data from Other Providers?
We are happy to take raw data from other providers, or historical data to perform biomarker discovery.
Can we Retrospectively look at Clinical Data to Identify a Biomarker?
Yes, this is perfectly possible. We can also then advise and perform appropriate preclinical studies to validate that biomarker for further clinical use.
When you Discover a Biomarker for a Client, Whose Intellectual Property is it?
This depends on how the client study and contract are set up, and how the customer wants to work with us. Options include customer retaining all i.p. or in certain instances we may share i.p. depending on how clients want to collaborate with our team.
If we Run these Studies with CrownBio, do they have to be Performed in China?
No - we have sites in both North America and in Europe where studies can be conducted. Some models are run in specific geographies, but we can advise as to what would be most appropriate.
Have you Tried to Identify Anti-PD-1 Response Biomarkers?
Yes, we can and have achieved this.
Contact us with any further questions on our biomarker discovery capabilities.