Will Small Molecules Outperform Antibodies In Cancer Immunotherapy?
by Federica Parisi PhD, September 22, 2015 at 08:00 AM | Tags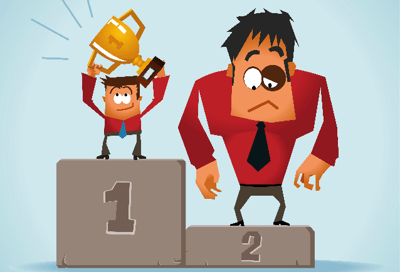 A team of researchers from the Ludwig Center at Stanford University School of Medicine in California engineered a small molecule with high affinity for PDL-1 that was found to be a more effective anticancer immunotherapeutic than conventional anti-PD-L1 antibodies. The team presented their findings at the CRI-CIMT-EATI-AACR International Cancer Immunotherapy Conference, held September 16-19.
Antibodies targeting immune checkpoints such as PD1, PD-L1, CTLA-4, and other immune-regulatory pathways have shown impressive results on cancer patients. The most common safety events associated with antibody therapy are related to the immune-based mechanism of action of these types of anticancer agents and may affect various organs, mostly the skin, gastrointestinal tract, endocrine system, and liver. However, corticosteroids treatment can significantly alleviate the symptoms of immune-related adverse event and accelerate patients' recovery.
Nowadays clinicians and cancer researchers are mostly concerned with improving the effectiveness of these ever so popular drugs, which can be limited by their large size that prevents them from penetrating the core of the tumor. Moreover continuous administration of anti-PD1 or anti-PDL-1 antibodies can result in counterproductive collateral damage, depleting some of the very antitumor immune cells they are supposed to activate.
A team of researchers in the lab of professor Weissman worked on the hypothesis that a small engineered protein that targets PD-L1 could be capable of blocking PD-1/PD-L1 signaling while at the same time overcoming the size and immune cells depletion setbacks and function as a superior immunotherapy.
Small and Mighty
The Stanford University researchers designed a small-protein that is 10 times smaller than an antibody and is capable of binding to PD-L1 50,000 times more strongly than its natural ligand, the PD-1 protein.
To test whether the small molecule they designed could penetrate solid tissues more effectively than anti-PD-L1 antibodies they labeled both with two differently colored dyes and injected them at the same time into tumor bearing mice. The resulting surgically removed tumors were recognized by both the antibody and the small molecule, however the first was mostly found outside the tumor, whereas the latter was able to penetrate deeply into the core of the cancer.
Moreover by sampling the blood from treated tumor bearing mice they found that the PD-1-like small molecule did not affect T cell number in the blood or lymph nodes, while the anti-PD-L1 antibody caused significant depletion of T cells that worsened when they combined the antibody with other immunotherapies.
Last but not least, they tested the antitumor activity of their compound versus anti-PDL-1 antibodies and found that both drugs were equally effective in shrinking small tumors (about the size of a grain of rice), however, on bigger tumors (about the size of a pea) the anti-PD-L1 antibodies were entirely ineffective, even when they were administered in combination with anti-CTLA-4 antibodies whereas the PD-1-like small protein was able to slow their growth, and was even more effective when combined with anti-CTLA-4 antibodies.
Crown Bioscience welcomes this preclinical results showing that it is possible to improve the already striking antitumor activity of conventional antibodies using small molecule therapeutics.
Crown Bioscience's fully integrated drug discovery capabilities increase the speed and efficiency of progressing hits to preclinical candidates. Our disease expertise and unique translational research platforms translate into successful identification of your most robust molecules, strategic therapeutic area and indications, and more successful Phase II & III clinical trials. Our unique predictive translational oncology models and our comprehensive in vitro and in vivo services ensure we characterize your compound's efficacy rapidly and effectively.
Find out more about our services and contact us today at busdev@crownbio.com.
---
Author
---