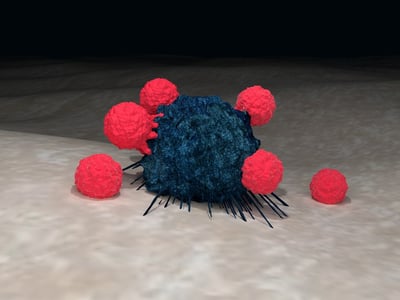 2018 has been a roller coaster year for immunotherapy, from exciting Nobel Prize news to warning IDO1 clinical trial results in the spotlight.
Nobel Prize for Immunotherapy
As an immuno-oncology product manager, it's my job to keep up-to-date with the most recent developments in the field. I'll have to admit, I/O has kept me on my toes in 2018.
It was really exciting to witness the Nobel Prize committee awarding the Nobel Prize for Medicine to two eminent immunologists, Professor James Allison, from the University of Texas MD Anderson Cancer Center, and Professor Tasuku Honjo, from Kyoto University, Japan.
The two scientists and their teams made key discoveries about how the immune system is regulated back in the late nineties. The groups discovered CTLA-4 and PD-1 receptors, respectively, significantly contributing to the establishment of the cancer immunotherapy principle by checkpoint inhibitor blockade.
Oncology Societies Recognize Immunotherapy
At the start of the year, the American Society of Clinical Oncology (ASCO) nominated immunotherapy as the Advance of the Year for the second consecutive year. This recognition is awarded to the area of research that achieved the greatest progress, including prevention, treatment, patient care, and a look toward the future.
Not surprisingly, the majority of international conferences had immunotherapy as a main focus, and we had the chance to attend many dedicated plenary sessions discussing the latest I/O advances and results from clinical trials.
I found the 2018 Annual Meeting of the American Association for Cancer Research (AACR) especially noteworthy. This year the organizing committee has put the spotlight on "Driving Innovative Cancer Science to Patient Care". As a result, a wave of new data was presented involving the use of computational science and "big data" analysis to accelerate progress in cancer research and drug discovery.
I think this is particularly relevant to immunotherapy, where a clear signature of response still needs to be identified and there is often a need to evaluate various cell populations and several biomarkers at the same time.
Among the 170 clinical trials presenting results at AACR, my highlight has to be the EORTC 1325-MG/Keynote 054 double-blinded Phase III trial. This trial looked at "pembrolizumab versus placebo after complete resection of high-risk stage III melanoma".
This large clinical study found that the anti-PD-1 agent pembrolizumab (Keytruda®), given as an adjuvant therapy to resected high-risk stage III melanoma patients, resulted in significantly prolonged recurrence free survival (RFS) with a favorable benefit-risk profile.
Although other trials are looking at adjuvant anti-PD-1 in the treatment of stage III melanoma, this is the first study to feature a cross-over design, which means that patients who received placebo and who experienced recurrence were offered treatment with pembrolizumab.
This will give us important insights as to whether adjuvant therapy with pembrolizumab right after surgery is better than starting treatment at relapse and represents another step forward towards optimizing the therapeutic strategy for such an aggressive cancer type.
2018 Immunotherapy Setbacks
As with all new modalities, setbacks are bound to happen, and 2018 brought the first big let down for immunotherapy developers — IDO inhibitors in combination therapies. This has led to many concerns around pushing I/O drugs into large clinical trials too soon, especially with regards to "opportunistic" combinations of checkpoint inhibitors.
Incyte's IDO inhibitor epacadostat plus Keytruda Phase III combination study in melanoma was stopped due to the drug failing to show any benefits over single agent Keytruda. This led to several other firms, including NewLink Genetics, Bristol-Myers Squibb, and AstraZeneca, halting their IDO combination programs, both in melanoma and other indications including lung cancer.
This trial/agent has been widely perceived to have failed due to a lack of clinical assessment of the biologic rationale in mid-stage studies. This suggests we need to take a step back and thoroughly investigate each drug's mechanism of action and efficacy on its own before advancing them in to combination studies.
Additionally, results from larger clinical trials are now warning that adverse events associated with immunotherapy treatment have been initially underestimated. This is because such events were compared with those encountered with standard chemotherapy, without considering they may be dissimilar.
The good news is, while immune-related adverse events are more frequent than expected, they are also treatable, therefore recognizing the early signs is still key to patient benefit.
Summary
With these lessons learned, I envisage 2019 will probably witness a trend in immuno-oncology where the need for speed will be more carefully balanced with scientific rigour. This will most certainly benefit the field and improve patient outcomes.