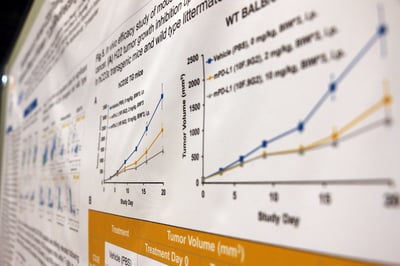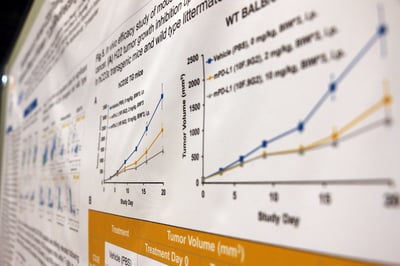 CrownBio presented thirteen posters at AACR 2018, showcasing a wide range of our oncology and immuno-oncology platforms.
This blog post recaps two posters we presented on using humanized mouse models to tackle immuno-oncology problems – specifically a CD3E transgenic mouse model for bispecific antibody testing and PBMC-humanized models for targeted cancer immunotherapy evaluation.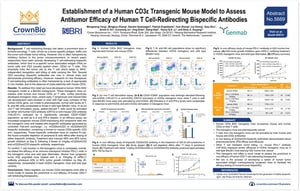 In collaboration with Nanjing Biomedical Research Institute and Genmab
T cell redirecting therapies are a hot topic in immuno-oncology research. In recent years, development has focused on T cell-redirecting bispecific antibodies, which bind to a specific tumor associated antigen (TAA) on tumor cells and CD3 (usually epsilon chain, CD3ε) on T cells. This physically links the tumor cell to the T cell, causing MHC-independent recognition and killing of cells carrying the TAA.
Assessment of CD3 recruiting bispecific antibodies is hampered, however, by a shortage of appropriate in vivo models. There's a lack of cross-reactivity between human and mouse CD3ε, meaning murine models aren't suitable for these applications. To overcome this, targeted humanized models were previously developed – with the human CD3ε gene inserted - but early T lymphocyte and natural killer cell development was blocked in these models, meaning they couldn't be used to assess immunotherapies.
New Human CD3ε Transgenic Mouse Model for Bispecific Antibody Assessment
This poster details the development and characterization of a new human CD3ε BAC transgenic mouse model in a BALB/c background. The model is phenotypically normal and has a similar level of T, B, and NK cells compared to wild type BALB/c mice, providing the ideal model for preclinical, in vivo efficacy testing of human CD3 T cell-redirecting therapeutics.
The poster looks at the FACS validation data for the T, B, and NK cell populations, as well as FACS analysis showing that the models express both human and mouse CD3ε. Data is included for ex vivo T cell stimulation assays, which show that T cells from the transgenic mice can be activated by both human and mouse anti-CD3ε antibodies.
In Vivo Efficacy Testing of CD3 Bispecific Antibodies
Efficacy data was also included, showing that CD20xCD3 bispecific antibodies demonstrate robust pharmacodynamic effects and efficacies on A20 B cell lymphoma implanted in these mice, and that other T cell-mediated tumor killing (e.g. by PD-L1) is unaffected compared with wild type BALB/c controls.
Overall, this poster shows that the new transgenic line offers a novel model to assess the preclinical in vivo efficacy of human CD3 T cell-redirecting therapeutics.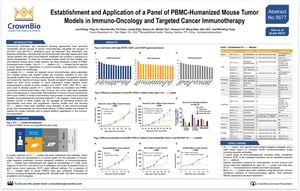 Bispecific antibody testing was also covered in poster 5677, which looked at our panel of peripheral blood mononucleated cell (PBMC)-humanized tumor models. This panel provides a fast, reliable, and cost-effective platform for targeted immunotherapy assessment, including for bispecific T cell engagers.
PBMC humanized models are developed by mixing human PBMC with traditional, cell line-derived xenografts. The resulting PBMC-humanized mice have been fully validated to show that partial reconstitution of human hemopoiesis occurs, and (for specific models) significant replenishment of the human T cell population coincides with the appearance of immunotherapeutic efficacy.
Gene Expression Profiling to Select Cell Lines for Model Development
To select xenograft models to use for this platform, gene expression analysis can be performed. This poster details the expression levels observed for EGFR, CD47, and CD274 (PD-L1) across a range of cell lines/xenografts in the CrownBio collection. These three genes all encode for proteins which have been targeted via bispecific antibodies. By subsequently selecting xenografts with high expression levels, PBMC humanized models can be specifically developed which are highly relevant for the in vivo testing of therapeutic antibodies.
The poster also details a range of available PBMC-humanized models, such as Jeko-1, Karpas299, SCC-4, and HCC827, and their responses to standard immunotherapy such as PD-1 and PD-L1 inhibitors. For the Jeko-1 model, response to these agents is shown to be donor dependent. A summary overview of all models validated for this platform is included, offering a wide range of options for in vivo immunotherapy and bispecific antibody assessment.
Watch this space for more on AACR 2018, with featured posts on PDX, murine homograft models, ex vivo and in vitro assay platforms, and microbiome studies.
---
Author
---