Advances in In Vivo Oncology Models at AACR-NCI-EORTC 2019
by Jody Barbeau PhD, October 29, 2019 at 04:30 PM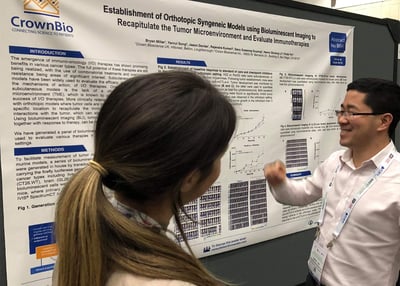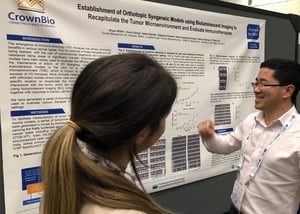 In Boston this week we're presenting all the latest updates across our panels of in vivo oncology models. Catch up with our latest innovations in imaging xenograft and syngeneic models, improving immunogenicity of syngeneic models, and transcriptome analysis of PDX implantation site.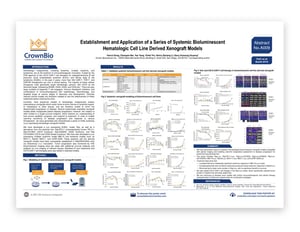 Our first imaging poster looks at advances in modeling hematologic malignancies. A lot of current in vivo studies in this field use subcutaneous xenograft models. However, they don't home well to bone marrow or lymphoid organs, or metastasize.
An improved model choice on two fronts is bioluminescent systemic xenografts. Systemically engrafted models better recapitulate clinical disease, and combining these with imaging allows real-time monitoring of disease progression and therapy response.
Bioluminescent Systemic Xenograft Model Development and Validation
This poster looks at the panels of bioluminescent systemic models we've been generating for hematological malignancies, before moving on to treatment data. Our panel includes DLCBL models (Raji, plus a variant overexpressing PD-L1, and those with CD19, CD22, and CD19/22 knocked out), multiple myeloma (MM.1S) and leukemia models (MV4-11, Nalm6, MEC-1, and CCRF-CEM). All models express firefly luciferase detectable by bioluminescent imaging.
Standard of care data for these models generally shows a good treatment response. Lenalidomide treatment led to a significant antitumor response in the MM.1S-Luc model, and treatment with cyclophosphamide and vincristine produced a robust antitumor response in the Nalm6-Luc model. Rituximab led to a lower tumor burden in the Raji-Luc model, but no significant survival benefit was seen.
We also present treatment data for the Raji-Luc model with CD19 CAR-T cell therapy, a key new treatment modality for hematologic malignancies.
We're continuing model development, with more new models generated as well as further characterization to find the best opportunities for combination strategies.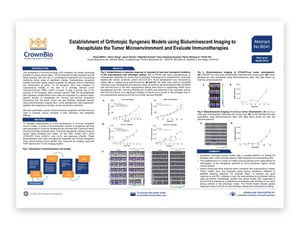 As well as generating bioluminescent xenografts, we're also creating panels of bioluminescent syngeneic models. This allows the models to be implanted and monitored in the orthotopic setting, with a more clinically-relevant tumor microenvironment (TME) than subcutaneous alternatives. This is very important for immuno-oncology research, as the TME plays a pivotal role in immunotherapy response. Orthotopic syngeneics also recapitulate immune and stromal component interactions with the tumor, which facilitate metastatic spread.
Bioluminescent Syngeneic Model Development and Validation
We've generated a wide range of syngeneics expressing firefly luciferase, across a range of cancer types:
Liver - Hepa 1-6-Luc and H22-Luc
Breast - 4T1-Luc
Colon - CT26.WT-Luc
Brain - GL261-Luc
Lung - LL/2-Luc
Pancreas - Pan02-Luc
Poster B041 focuses on comparing treatment response for subcutaneous models vs orthotopic counterparts. For example, while both anti-CTLA-4 and sorafenib are effective against the H22 subcutaneous model, the corresponding H22-Luc orthotopic model is resistant to both treatments. Conversely, for the Pan02 model, orthotopic implantation enhances response to anti-CTLA-4 treatment.
Tumor development is also detailed for some of our newer colon and lung cancer models.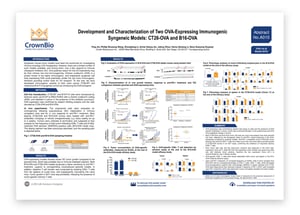 Staying with syngeneics, our next poster looks at how to enhance the immunogenicity of these models. Syngeneic response to immune checkpoint inhibitors (ICI) is limited, potentially due to their intrinsic low-/non-immunogenicity.
To improve this, we've developed CT26.WT and B16-F10 tumors expressing chicken ovalbumin (OVA). OVA is highly immunogenic, and this poster explores if OVA expression makes the syngeneic models more immunogenic as well.
OVA-Expressing Syngeneic Model Development and Validation
Stable clones of CT26-OVA and B16-OVA were generated, and expression levels evaluated through western blot, allowing the selection of high and low OVA-expressing clones. Immunogenicity was then evaluated through treatment with anti-PD-1 antibody. Both CT26-OVA and B16-OVA syngeneic models are more immunogenic than their parental cell lines, with both showing enhanced therapeutic response.
Anti-PD-1 treatment completely 'cured' CT26-OVA tumor bearing mice, and CD3+ T cells from these tumor free mice prohibited the growth of CT26-OVA tumors in an adoptive cell transfer study. This confirms the existence of long-lived memory CD8+ T cells.
We also performed phenotype analyses on tumor infiltrating lymphocytes in the B16-OVA model and the spleen from the CT26-OVA model, at the end of efficacy studies. Various immune cell lineages were increased or decreased, as detected by FACS analysis.
As poster B041 has already shown, tumor implantation site is important. Poster C118 considers this for patient-derived xenografts (PDX) and gene expression. Previous PDX studies have shown that tumor location affects stromal interactions, including immune response, as well as tumor expansion in murine models. There's yet to be an in depth investigation though, on how subcutaneous vs orthotopic implantation affects gene expression within PDX.
Poster C118 compares transcriptomes between subcutaneous and orthotopic PDX tumors, using 10 models across liver, breast, and colorectal cancer. Transcriptome sequencing was performed by RNAseq, with the resulting data mapped to both human and mouse reference genomes to separate human tumor reads and mouse stromal reads.
Our initial investigations show that implantation site has a pronounced impact on PDX tumor transcriptome across cancer types. However, the cancer type and relevant organ-specific TME also influence the transcriptome profile and correlation.
To enhance our investigations and build on this knowledge, next steps are likely to be removing cancer type influence by focusing on individual cancers.
Read More on AACR-NCI-EORTC 2019
Read more on our poster updates on organoids and biomarker discovery platforms.

---
Author
---