Significant progress has been made in the treatment of pediatric cancers, with the 5-year survival rate for children with cancer overall in high-income countries currently at ~80%. Despite this progress, there are still major unmet needs in this patient population. The 5-year survival rate for children with cancer in middle- and low-income countries are ~55% and ~40%, respectively, and survival prospects for several pediatric cancers are still very poor.
For instance, children with diffuse intrinsic pontine glioma have a 2-year survival rate of <20%, with essentially no long-term survivors. Children with cancer who have recurrent, relapsed, or refractory disease also have very poor survival. Among pediatric patients who are long-term survivors, many suffer long-term effects because of the aggressive surgery, chemotherapy, and radiotherapy regimens received.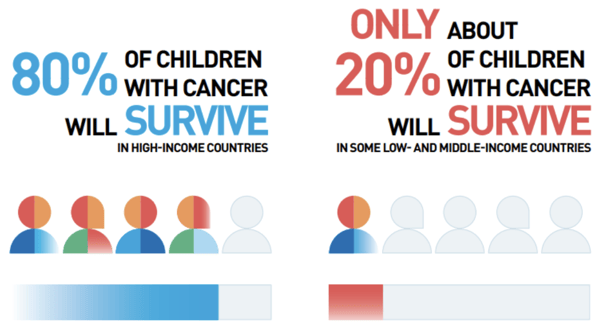 Photo credits: American Childhood Cancer Organization
This blog post summarizes some of the key features that make pediatric cancers a unique challenge for drug development. We highlight recent progress during 2022 and explore perspectives and new opportunities to tackle childhood cancer.
Childhood Tumors are Fundamentally Different from Malignancies in Adults
Pediatric tumors represent a particular challenge due to their rarity, heterogeneity, and different pathogenetic mechanisms compared to adult tumors. They account for approximately 1% of all tumor diagnoses but sadly, represent the most common cause of disease-related death in children.
Pediatric cancers are unique with respect to 1) tumor types, 2) molecular characteristics, and 3) pathogenesis. In contrast to malignancies in adults, which are mostly of epithelial origin and often caused by an extended exposure to carcinogens, tumors in childhood are often derived from the mesoderm or neuroectoderm. Etiology is largely unknown and hereditary cancer predisposition is only found in 10% of patients.
Pediatric cancers are thought to have 'quieter' genomes compared with adult cancers and have mutation frequencies 14 times lower than adult cancers. Tumors in children predominantly show very limited immune cell infiltration and are thus often considered immunologically "cold" tumors with low impact of recently developed immunotherapy.
Tumors that histologically appear to be of the same type often have distinctive etiology and pathogenesis, which is reflected in their diagnosis and clinical behavior. As a result, there is a need for specific pediatric cancer treatment strategies that optimize survival chances while minimizing risks for long-term complications and effects.
FDA Approvals for Pediatric Cancer Drugs in 2022
Significant advances in pediatric cancer treatment were made in 2022. Three drugs were approved for new pediatric indications;
Azacitidine (Vidaza®) for juvenile monomyelocytic leukemia
Brentuximab vedotin (Adcetris®) for Hodgkin lymphoma
Atezolizumab (Tecentriq®), the first PD-L1 inhibitor approved for a pediatric sarcoma.
The oncology approvals for 2022 also included two drugs to reduce the toxicity associated with cancer therapy in children. In August, the FDA approved ibrutinib (Imbruvica®) for pediatric patients with chronic graft-versus-host disease, a condition in which immune cells transplanted from a donor attack the cancer patient's healthy tissues. Ibrutinib has been approved since 2017 to control this condition in adults, but it is the first treatment of its kind approved to treat the disease in children.
A month later, the FDA approved sodium thiosulfate (Pedmark®) to reduce the risk of hearing loss driven by cisplatin-containing chemotherapy regimens. The drug was approved to be given alongside cisplatin to pediatric patients older than one month of age.
Drugs Approved
[Brand Name]
Pharmacologic Class
Drug Target(s)
Indication
Pediatric
Age Range
Atezolizumab
[Tecentriq]
Programmed death-ligand 1
(PD-L1) blocking antibody
CD274 (PD-L1)
As a single agent for the
treatment of adult and
pediatric patients with
unresectable or metastatic
alveolar soft part sarcoma
(ASPS)
2 years
and older
Brentuximab vedotin
[Adcetris]
CD30-directed antibody-drug
conjugate
TNFRSF8 (CD30)
Treatment of pediatric
patients with previously
untreated high-risk classical
Hodgkin lymphoma (cHL), in
combination with doxorubicin,
vincristine, etoposide,
prednisone, and
cyclophosphamide
2 years
and older
Crizotinib
[Xalkori®]
Kinase inhibitor
ALK, MET, ROS1,
MST1R (RON)
Treatment of adult and
pediatric patients with
unresectable, recurrent, or
refractory inflammatory
myofibroblastic tumor (IMT)
that is ALK-positive
1 year
and older
Dabrafenib
[Tafinlar®]
Kinase inhibitor
BRAF, CRAF
In combination with trametinib,
for the treatment of adult and
pediatric with unresectable or
metastatic solid tumors with
BRAF V600E mutation who
have progressed following
prior treatment and have no
satisfactory alternative
treatment options
6 years
and older
Trametinib
[Mekinist®]
Kinase inhibitor
MAP2K1 (MEK1),
MAP2K2 (MEK2)
In combination with dabrafenib,
for the treatment of adult and
pediatric patients with
unresectable or metastatic
solid tumors with BRAF V600E
mutation who
have progressed following
prior treatment and
have no satisfactory
alternative treatment options
6 years
and older
Azacitidine
[Vidaza]
Nucleoside metabolic
inhibitor
N/A
Treatment of pediatric patients
with newly diagnosed Juvenile
Myelomonocytic Leukemia
(JMML)
1 month
and older
Nivolumab and
Relatlimab-rmbw)
[Opdualag®]
Human programmed death
receptor-1(PD-1) blocking
antibody and lymphocyte
activation gene-3 (LAG-3)
blocking antibody
PDCD1 (PD-1),
LAG3
Treatment of adult and
pediatric patients with
unresectable or metastatic
melanoma
12 years
and older
FDA Oncology 2022 drug approvals
Although significant advances were accomplished, this limited number of pediatric drugs approved by the FDA highlights the difficulties to develop new and efficacious pediatric cancer drugs, since a large proportion of the genetic drivers in pediatric cancer do not overlap with those of adult cancers. Indeed, in most cases, treatments targeting molecular alterations specific to pediatric cancers are yet to be developed, and so the pediatric cancer field must rely on targeted agents for adult indications.
Recent advances in the understanding of biomarkers and tumor biology, coupled with recognition of the 'quieter' genomes and importance of fusion proteins in childhood cancers, highlight the value of adopting a pediatric-centric, mechanism of action-driven approach to pediatric oncology drug development, with the RACE for Children Act being a substantial global catalyst, which we discussed in a previous blog post.
Future Considerations for Pediatric Cancer Drug Discovery and Development
Currently, only a limited number of targeted therapies have achieved regulatory approval or widespread use in pediatric oncology. Given the complex pathway for drug development for children's malignancy and recent regulatory changes, a broad range of drug classes and agents are of interest and under current investigation.
While most currently approved targeted therapies for pediatric cancer are kinase inhibitors, agents are under investigation for a broader range of other targets, including;
epigenetic modifiers
anti-apoptotic proteins
immunotherapies against cell surface proteins.
New pharmaceutical strategies to directly target non-kinase oncoproteins, one of the most common oncogenic drivers in pediatric cancer, have shown promise in preclinical studies and have entered the clinic.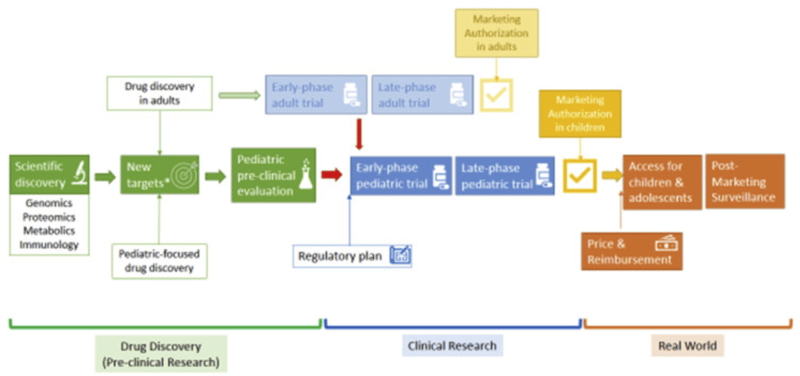 Pathway for drug development for children's malignancy. Source: ACCELERAT – Five years accelerating
cancer drug development for children and adolescents, Eur J Cancer 2022 May;166:145-164.
Drug development for pediatric oncology presents several challenges including lower patient numbers compared with adult oncology, a generally quiet genome, and the need to develop strategies to target non-kinase fusion oncoproteins. However, these same challenges result in several opportunities including a mandate to coordinate drug development across national boundaries and sponsors, the potential for easier identification of true oncogenic drivers in pediatric cancer, and less acquired resistance.
Utilizing Organoids and Other Novel In Vitro Solutions
As new therapies move to the clinic, it is important to develop approaches to assess quality-assured initial preclinical testing to evaluate new molecularly-targeted compounds. This can be done in a repertoire of well-characterized models to establish the basis for increasing the therapeutic successes of these drugs in children with malignancies.
Since these tumors are overall genetically much less complex than their adult counterparts, it is anticipated that it will be easier to identify powerful predictive biomarkers to allow for accurate matching of targets and drugs. In line with the FDA Modernization Act 2.0 that encourage the use of in vitro assays for testing compounds during medicines development, tumor organoids (OrganoidBaseTM) developed by Crown Bioscience are amenable to gene editing and high-throughput drug screens, and provide unique opportunities to expand tumor tissue from rare cancers, whilst maintaining the molecular and structural features of the original patient tumor, mimic the heterogeneity, molecular/genetic complexity and tumor microenvironment (TME) of human tumors.
Organoid platform is expected to contribute significantly for accelerating deep cancer research, drug screening, personalized medicine and facilitate evaluation of monotherapy and combination drug responses in patient tumor as well as identify potential biomarkers early in drug discovery.
Pediatric cancer organoids have demonstrated the feasibility of using these models to capture disease and tissue heterogeneity, while EVPT platform preserves native TME with endogenous immune cells, fibroblasts, and other stromal components. All together these technologies demonstrated good complementarity, and the feasibility of using these models to capture disease and complexity of human tumors. to capture disease and tissue heterogeneity.
Organoid technology platform offers unique toolbox for identifying novel therapeutic approaches for high-risk patients and improving treatment of children with cancer. Learn more about these technologies here.