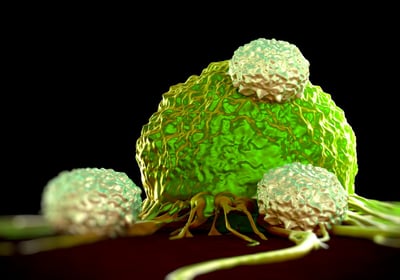 CAR-T cell therapies are currently only approved for blood cancers, but new preclinical research shows promise in using CAR-T cells against solid tumors in gastric cancer.
CAR-T Cell Therapy for Solid Tumors?
CAR-T cell therapy is already a promising cancer treatment strategy, with FDA approvals in B cell ALL and NHL. The majority of research is in hematological malignancies, targeting CD19.
Solid tumors are also being investigated. While breakthrough disease control hasn't been achieved for these malignancies yet, early stage clinical trials have shown promising results when targeting IL13Rα and HER2.
Targeting Gastric Cancer with CAR-T Therapy
Jiang et al report on the preclinical evaluation of CAR-T cell therapy targeting Claudin18.2 (CLDN18.2) in gastric cancer. CLDN18.2 is a stomach-specific isoform of claudin-18, with expression in gastric, pancreatic, and esophageal (including metastases) cancers. CLDN18.2 can also be found in 'normal' gastric tissue but is restricted to short-lived, differentiated cells of the gastric mucosa.
This provides a potentially good target for anticancer agents, including CAR-T cells.
Clinical CAR-T Trials
A monoclonal antibody against CLDN18.2 has been developed (Claudiximab/IMAB362), and is currently in a range of clinical trials. This includes a Phase III study in combination with mFOLFOX6 for CLDN18.2 positive, HER2 negative locally advanced unresectable or metastatic gastric and GEJ adenocarcinoma.
CLDN18.2-targeted CAR-T cells, however, have never been reported, leading the study authors to investigate in vitro and in vivo antitumor activity.
Generating CLDN18.2 Specific-CAR-T Cells for Research
Lentiviral vectors were produced which encoded a variety of CARs (hu8E5-28Z, hu8E5-BBZ, and hu8E5-2I-28Z), made up of anti-CLDN18.2 scFv linked to the intracellular signaling domain from human CD28 or CD137 and CD3ζ chains via the human CD8 hinge and CD28 or CD8α transmembrane regions.
T cells where then transduced by the lentiviral vectors encoding the CAR genes to generate CLDN18.2 specific CAR T cells for testing.
In Vitro Cytotoxicity Studies
These CAR-T cells were carried forward to in vitro cytotoxicity studies, where both the hu8E5-28Z and hu8E5-BBZ efficiently lysed CLDN18.2-positive cells. CLDN18.2-negative cells were unaffected by treatment and mock T cells couldn't lyse any of the target cells. This shows intrinsic target-dependent cytotoxic activity by the CAR T cells.
In Vivo Efficacy Testing with Cell Line-Derived Xenograft Models
To test the in vivo efficacy of the CLDN18.2 specific CAR T cells, the researchers used CLDN18.2-transfected BGC-823 cells as "traditional" cell line derived xenograft models. Untransduced T cells were used a control agent.
The hu8E5-28Z and hu8E5-2I-28Z T cells both induced significant tumor growth inhibition compared with control, as well as a significant reduction in tumor weight.
In Vivo Efficacy Testing with Patient-Derived Xenografts
The hu8E5-2I-28Z T cells, with slightly better antitumor activities and increased cytokine production capacity, were taken forward to more patient-relevant in vivo testing. This used patient-derived xenograft (PDX) models, which are developed by directly implanting patient tumors in mice, skipping the in vitro cell line-establishment stage. As the models never adjust to growing on plastic, they closely reflect patient tumors in both histo- and molecular pathology and drug response.
Overall, this means PDX provide more predictive, clinically-representative xenograft models for efficacy assessment.
Two CLDN18.2-positive PDX were treated, with both models showing significant decreases in tumor volume and tumor weight compared with untransduced T cell controls. One specific model showed remarkable tumor suppression results – with the tumor completely eradicated in five-out-of-six mice treated with the CLDN18.2 specific CAR T cells.
No Off-Tumor Toxicity Observed
Safety is always an important aspect when studying CAR T cells and toxicity needs to be closely monitored.
In this study, hu8E5-2I-28Z T cells did not induce on-target off-tumor toxicities in in vivo mouse models. There was no damage to the gastric tissue or other organs of the treated mice, and no weight loss was observed in the CAR-T cell treated animals.
With potent cancer cell elimination, great in vivo efficacy, and a good safety profile, CLDN18.2-targeted CAR T cells could be a promising therapeutic option for gastric cancer treatment.

---
Author
---