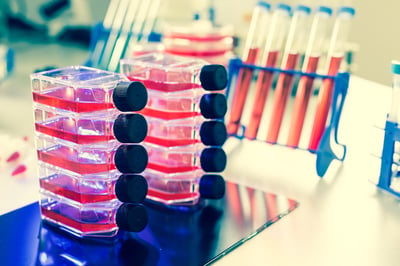 Cell lines are the cornerstone of life science research. Explore the cells and cell lines available for oncology studies, and discover custom cell lines to meet your specific research needs.
Primary Cells vs Cell Lines
A first choice for oncology studies using cells is whether you want to use cell lines or primary cells. The common choice seen across multiple publications is immortalized cancer cell lines. These are usually easy to grow and highly proliferative, robust for repeated uses over multiple passages and freeze thaws. Cell lines are also easy to find commercially in large collections for a variety of research needs.
Immortalized cell lines do have some disadvantages though. They've adapted to grow long term in in vitro culture, on plastic flasks and petri dishes. This can have a massive impact on genotype and phenotype, with significant drift from original disease. These potential changes should always be taken into account for cell line genetic data analysis.
In recent years, misidentification and contamination have also become high profile issues. Immortalized cell line use also means you utilize a line derived from a single individual patient.
Primary cells, isolated directly from human tissue, tend to have the opposite pros and cons. They have a finite life span in culture, which varies according to cell type. They are from multiple donors (allowing evaluation of donor not just cells), and are not inherently modified by researchers. They can change during culture, so (as for cell lines in general) using an early passage is always a good choice.
What if My Cell Line of Choice Isn't Available?
On top of standard immortalized cell lines, a number of commercial cell lines also exist with knocked in/out targets, or overexpressing genes. Even with all of this availability sometimes the exact cell line you need is not available. At that point, having a custom cell line generated is an attractive option.
You can undertake this project in house, but often researchers turn to commercial vendors with many years of experience in generating stable cells lines. There are many factors to be considered when starting to develop a custom cell line including:
Host cell line


Target of choice, and how to achieve your aim including which method (e.g. KI, KO, CRISPR/Cas9, vector, etc)


If a reporter molecule is needed


Intended applications


Budget and timeline
Cell Line Vendors
Possibly the most well-known cell line vendor/repository is the ATCC®, with over 4,000 cell lines available.
Popular vendors for modified cell lines and custom cell lines include: