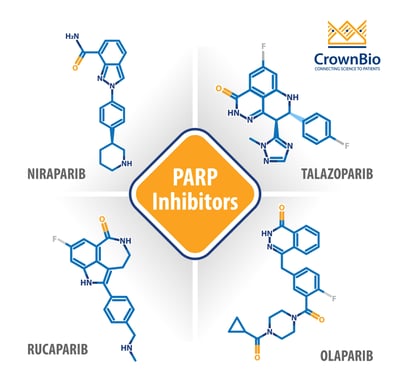 Review the current approval status of PARP inhibitors, and what could be coming next for this class of agent, including combination regimens
PARP Inhibitor Development
Poly (ADP-ribose) polymerases (PARPs) play an essential role in DNA damage repair. PARP inhibitors (PARPi) were conceived as anticancer drugs based on the concept that if PARP enzymes didn't repair DNA damage, this could lead cancer cells to develop too many mutations and trigger cell death.
The breast cancer-associated protein (BRCA1/2), in conjunction with PARP, contributes to the homologous recombination (HR) repair pathway. Cells with BRCA1/2 protein deficiency or mutations are more sensitive to the cytotoxic effects of PARPi compared to normal cells. This is due to the synthetic lethality between defective HR caused by dual BRCA deficiency and PARP inhibition, a concept that was confirmed with the approval of PARP inhibitors.
Clinically Approved PARP Inhibitors
Four PARPi are currently approved for clinical use: olaparib, rucaparib, niraparib, and talazoparib, with their approvals summarized in the table below.
Briefly, olaparib was the first PARPi approved in 2014 for treating germline BRCA-mutated metastatic ovarian cancer after three or more lines of chemotherapy. Rucaparib was then approved in 2016 as a monotherapy for the treatment of patients with advanced ovarian cancer with either somatic or germline BRCA mutations.
Approvals for olaparib, niraparib, and rucaparib as maintenance therapy followed in 2017 for adult patients with recurrent epithelial ovarian, fallopian tube, or primary peritoneal cancer which was previously treated with platinum-based chemotherapy and based on improved progression-free survival. These approvals cover both BRCA mutation positive and negative patients, or are regardless of BRCA status, which was a big step forward in opening up PARPi usage to a wider spectrum of patients. Olaparib is also approved as maintenance therapy for a subset of pancreatic cancer patients.
In 2018, the FDA approved talazoparib for the treatment of deleterious germline BRCA-mutated HER2 negative metastatic breast cancer. Talazoparib is 100 times more potent than olaparib due to the mechanism of action of PARP trapping, which interferes with a cell's ability to replicate.
Approved PARP Inhibitors as Monotherapy
Drug
Approved for
Ovarian Cancer
Approved for
Breast Cancer
Approved for
Pancreatic Cancer
Olaparib
AstraZeneca
Treatment:

Germline BRCA 1/2 mutations
Following 3 or more rounds of chemotherapy

Maintenance therapy:

Germline or somatic BRCA 1/2 mutations (first-line maintenance)
Also recurrent cancer without BRCA mutations
Advanced cancer with complete or partial response to first-line platinum-based chemotherapy

Treatment:

Germline BRCA 1/2 mutations
HER2 negative metastatic patients treated with chemo
Hormone receptor positive cancer treated with endocrine therapy or inappropriate for endocrine therapy

Maintenance therapy:

Germline BRCA 1/2 mutations (first-line maintenance)
Metastatic pancreatic adenocarcinoma with no disease progression on at least 16 weeks first-line platinum-based chemotherapy

Rucaparib
Clovis Oncology
Treatment:

Germline BRCA 1/2 mutations
Following 2 or more rounds of chemotherapy

Maintenance therapy:

Recurrent cancer with complete or partial response to platinum-based chemotherapy
Regardless of BRCA mutation

Talazoparib
Pfizer
Treatment:

Germline BRCA1/2 mutations
HER2 negative metastatic cancer patients

Niraparib
Tesaro
Treatment:

Homologous recombination deficiency positive status:
BRCA mutation or
Genomic instability and progression >6 months after response to the last platinum-based chemotherapy
Advanced cancer treated with 3 or more rounds of chemotherapy

Maintenance therapy:

Recurrent cancer with complete or partial response to platinum-based chemotherapy
Regardless of BRCA mutation
PARP Inhibitors in Combination
Following the expanded clinical use of PARP inhibitors and the high likelihood of acquired resistance, there is a significant need for clinical strategies combining PARP inhibitors with other agents. PARPi can act as sensitizers for chemotherapies, immunotherapies, and targeted agents. Some targeted treatments, such as MEK inhibitors, can also act as sensitizers to tumors that are initially resistant to PARP inhibition.
PARP Inhibitors Combined with Chemotherapy
Myelosuppression makes it challenging to combine PARPi with chemotherapy. Veliparib is a PARP inhibitor currently in development and under investigation to treat non-small cell lung cancer (with an FDA orphan drug designation), as well as BRCA mutated breast and ovarian cancer.
Recent veliparib studies showed only modest cytotoxicity, and this agent is therefore considered the most suitable PARP inhibitor candidate to combine with chemotherapy. Veliparib showed a promising response in high-grade serous ovarian cancer patients when used in combination with carboplatin and paclitaxel, followed by veliparib maintenance.
PARP Inhibitors and Immunotherapy Combinations
BRCA mutated cancers are genomically very unstable due to defects in HR and therefore more immunogenic. This concept brings forward the hypothesis of combining PARPi with immunotherapy.
Durvalumab, an anti-PD-L1 agent, has demonstrated activity in urothelial carcinoma patients. Amplification of DNA damage by olaparib increases the tumor mutational burden and therefore turns tumors more immunogenic by upregulating PD-L1 expression. Due to this effect, combined olaparib and durvalumab in patients with solid tumors resulted in ORR of 67% through synergistic activity.
Niraparib plus the anti-PD-1 agent pembrolizumab also showed a good response in a Phase 2 trial in triple-negative breast cancer patients with or without both BRCA mutation and PD-L1 positive status. Researchers again observed that treatment with PARP inhibitor enhanced PD-L1 expression in cancer cells, providing another approach to using checkpoint inhibitors in combination with PARPi.
PARP Inhibitors and Targeted Therapy
Oncogenic signaling pathways are responsible for resistance to anticancer agents. Researchers are focusing on downstream or alternative oncogenic signaling pathways such as androgen receptor (AR), mitogen-activated protein kinases (MEK), and bromodomain (BRD4) pathways to overcome PARPi resistance. Both in vitro and in vivo studies have shown that MEK inhibitors could increase sensitivity to PARPi treatment, and combination of PARPi with inhibitors of oncogenic signaling, such as MEK inhibitors, is already underway.
In a Phase 2 trial, the efficacy of double blockade of AR and PARP in metastatic, castration-resistant prostate cancer patients has been conducted. Patients receiving olaparib plus abiraterone therapy had better survival data compare to abiraterone therapy alone.
Conclusion
PARP inhibitors are approved as therapeutic and maintenance therapy across a small selection of cancer types, often for patients with BRCA mutations. Trials are ongoing to uncover a broader range of patients where PARPi could be useful, and how to overcome resistance to these targeted agents.
It is likely to be through combination regimens, where synergistic effects could make this class of drug very valuable and effective. It is now essential to find oncogenic signaling partners responsible for PARPi resistance to optimize combination strategies to overcome resistance.