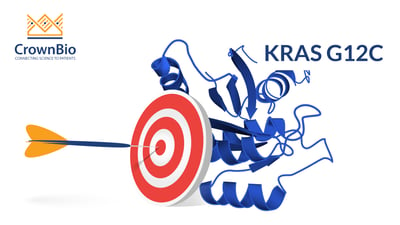 Targeting KRAS - As promising clinical trial data emerges for KRAS G12C inhibitors, we review the background, recent achievements, and potential future approaches to drugging the once "undruggable" KRAS target.
KRAS: An Oncogenic Driver in Multiple Cancer Types
One of the most frequently mutated oncogenes in human cancer is KRAS, which acts as a driver for multiple cancer types. KRAS mutation occurs in around 25% percent of all human cancers, and plays an important role in the emergence of some of the most common and deadly carcinomas including more than 90% of pancreatic and lung cancers.
The most common KRAS gene mutations occur at codons 12, 13, or 61, which affect the intrinsic GTPase activity of the KRAS protein:
Mutation of glycine 12 (G12) results in RAS activation by interfering with GAP binding and GAP-stimulated GTP hydrolysis.
Mutations at residue 13 sterically interfere with the arginine, decreasing GAP binding and hydrolysis.
Glutamine 61 has a direct catalysis role, and mutations here trigger a series of reactions finally resulting in an accumulation of active GTP-bound RAS.
Targeting KRAS in Cancer Therapy
The research community has put tremendous effort into developing drugs to target KRAS mutations but, until recently, there's not been much success leading to KRAS being deemed "undruggable". Alternative approaches have instead developed inhibitors or targeted agents affecting the signaling cascades downstream of RAS, such as MAPK and PI3K pathways.
BRAF inhibitors (vemurafenib and dabrafenib) and dual specificity MEK1/MEK2 inhibitors (trametinib and combimetinib) have been approved as single agents or in combination for the treatment of BRAF-mutated melanoma. Immense efforts have also been invested in developing ERK1/2 kinase inhibitors, which is exclusively downstream of MEK. Downstream inhibitors of transcription factors such as Fos-like antigen I (FOSL1) are also effective in KRAS mutant lung and pancreatic cancer.
Direct Targeting of KRAS G12C Mutations
KRAS G12C accounts for over 40% of all KRAS mutations, and has therefore been a key target for cancer drug developers. G12C is a single point mutation, substituting glycine to cysteine, and is highly dominant in lung cancer, causing about 12% to 13% of lung adenocarcinomas.
Researchers have tried targeting KRAS G12C with small molecules, but historically non were selective, binding both mutated and wild-type KRAS. Recent advances show that small molecules that form covalent bonds with the mutant cysteine show a specific selectivity for the mutant KRAS protein over wild type.
Researchers are also now targeting an adjacent histidine 95 (H95) residue, which may help drug-protein interactions. It's been hypothesized that covalent inhibitors may lock the KRAS G12C in the inactive state, therefore blocking activated oncogenic signaling.
Clinical Advances in Targeting KRAS G12C Mutations
Amgen AMG 510
Recent promising advances in targeting KRAS G12C have increased hope in a clinical agent being approved soon, with multiple agents now in clinical trials including key players from Amgen and Mirati.
Amgen are trialing AMG 510, which is the first KRAS G12C inhibitor to reach clinical trial for patients with advanced cancer featuring the mutation. Early results showed that in non-small cell lung cancer (NSCLC), disease could be controlled in 90% of patients (although this was only for a small cohort of 10 patients). Five patients saw tumors shrink after AMG 510 treatment, and another 4 had tumor growth stopped.
Follow up data looked at 34 NSCLC patients, of which 23 were evaluable for efficacy, and 13 received Amgen's Phase 2 target dose of AMG 510. Of these 13 patients, 7 achieved partial response and 6 had stable disease, meaning 100% disease control.
Amgen are currently enrolling for a potentially registrational Phase 2 study for this agent, which also received FDA fast track designation in September last year for metastatic KRAS G12C+ NSCLC patients who've received prior treatments. A companion diagnostic is also under concurrent development to help select the correct patients with KRAS G12C mutation for AMG 510 treatment.
Interestingly in preclinical studies, AMG 510 stimulated T cells to attack tumors. When the drug was combined with an anti-PD-1 inhibitor in immunocompetent murine models, there was significant inhibition of tumor growth, suggesting potential combination regimens in the clinic.
Mirati Therapeutics MRTX849
The other current major player is Mirati Therapeutics, with MRTX849. At last year's AACR-NCI-EORTC conference, Mirati presented the first data from their Phase 1/2 trial in patients with advanced solid tumors that have a KRAS G12C mutation. At that point the trial had enrolled 17 patients, and was still investigating maximum tolerated dose. NSCLC and CRC patients receiving the highest dose of MRTX849 given, all showed either partial response or stable disease. Across all dose levels, 3 of 6 NSCLC patients, and also in 1 of 4 CRC patients partially responded.
This trial is currently ongoing, with an estimated completion date of April this year.
Further KRAS G12C Inhibitors
Other players in the field include Boehringer Ingelheim, who advanced their pan-KRAS drug (BI 1701963) into clinical testing late last year. BI hope to treat around 15% of all metastatic cancers with this drug. BI also plan to combine BI1701963 with the Novartis MEK inhibitor Mekinist (trametinib) in Phase 1 trials. Their preclinical data show that BI1701963 can stop tumor growth beyond G12C mutations, acting on other KRAS G12 mutations as well as G13.
Wellspring Biosciences have also had their IND application for ARS-3248 accepted, clearing the way for a Phase 1 dose escalation and dose expansion clinical trial run by Janssen.
Future Challenges and Directions in Targeting KRAS
While recent clinical data looks promising in this arena, acquired resistance to KRAS inhibitors is already being expected due to the selectivity of these drugs. There is the potential to combine this class of KRAS inhibitors with other drugs, such as immunotherapies or other targeted agents.
As discussed above anti-PD-1 inhibitors have already been combined with KRAS G12C inhibitors, and pembrolizumab has been tested in combination with trametinib, a MEK inhibitor in KRAS mutant NSCLC.
Interestingly, using immunotherapies in KRAS mutant cancer came up from a multiple dimensional analysis of lung adenocarcinoma patients with co-mutated TP53/KRAS. Using genomic, transcriptomic, proteomic, and clinical data increased expression of PD-L1 and PD-L1+/CD8+ in these patients was shown. Furthermore, TP53 or KRAS mutant patients showed remarkable clinical benefits when treated with anti-PD-1 inhibitors. These benefits were more pronounced in those patients with double TP53/KRAS mutations.
Conclusions
Approved agents directly targeting KRAS would bring clinical benefit to a range of cancer patients. We're closely watching the current clinical trials, hopeful that this once undruggable target will finally meet its match.