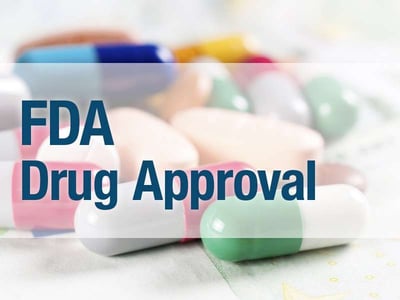 Acute myeloid leukemia has been the focus of much drug development, but few drug approvals, for the past few decades. While there have been significant research efforts into characterizing AML, and improving patient outcomes, the standard therapy for most subtypes of newly diagnosed AML has remained unchanged for the last 40 years.
That is until 2017, when new targeted agents have finally reached the market. This post reviews this year's pivotal approvals, and takes a look at what could be coming next.
First AML Treatment Targeting FLT-3 Mutated Disease
Back in April, Novartis received FDA approval for Rydapt® (midostaurin), currently the only approved targeted therapy for newly diagnosed FLT-3 mutated AML, which was approved in the EU recently.
FLT3 is a cell-surface receptor, which plays a role in a variety of blood cancers. FLT3 mutations are seen in around 1/3 of US AML patients, and can result in faster disease progression, higher relapse rates, and lower rates of survival than other forms of AML.
Rydapt is a multi-targeted protein kinase inhibitor that is active against FLT3, which provides an exciting new targeted treatment option for this AML subgroup (specifically for patients who are shown to be FLT3 mutation positive by an approved companion diagnostic). The clinical trial data on which the approval is based shows that newly diagnosed FLT3+ patients who received Rydapt + chemotherapy had significant improvement in OS, with a 23% reduction in the risk of death compared with chemotherapy alone.
Gemtuzumab Ozogamicin Back on the Market
Another approval for newly diagnosed patients saw a withdrawn drug return to market. Mylotarg® from Pfizer is an antibody-drug conjugate targeting CD33, an antigen expressed on the surface of myeloblasts in up to 90% of AML patients.
Originally on the market from 2000 to 2010, Mylotarg was then available at a higher dose in patients with CD33-positive AML who had experienced their first relapse and were 60 years or older, and who were not suitable candidates for other cytotoxic chemotherapy. The drug was pulled in the US in 2010 due to toxicity issues and a failure to confirm clinical benefit.
Now, the drug is available at a lower dose for adults with newly diagnosed CD33+ AML, and adults and children 2 years and older with relapsed or refractory CD33-positive AML – the first therapy with an indication specifically including pediatric AML. The 2017 approval is supported by a raft of new clinical data, with Mylotarg and chemotherapy combinations showing increased OS compared with best supportive care.
First IDH2 Mutation Inhibitor Approved
Another subgroup of AML patients with a specific mutation also gained an extra treatment option this year. IDH2 mutations are found in around 12% of all AML patients, and block normal blood cell development, resulting in an overabundance of immature blood cells.
The new approval of the first-in-class targeted IDH2 inhibitor (Idhifa®, Celegene/Agois) is for relapsed or refractory AML patients, with IDH2 mutation detected by companion diagnostic. As AML is particularly difficult to treat in the relapsed or refractory setting, this new agent provides a much needed new therapeutic option.
What Next? Potential New Targets Include IDH1, BCL-2, and Resistance to Overcome
With these targeted agents approved, there is now a raft of agents targeting the same mutations, or other novel mutations, undergoing clinical development. Kadia et al, provided a thorough review of upcoming AML drugs before these latest approvals, with a few interesting agents reviewed here.
IDH1 Inhibitors could follow IDH2
Agios has a full IDH program underway, and following Idhifa approval, the next agent in clinical trials is ivosidenib, a first-in-class, orally available, selective, potent inhibitor of the mutated IDH1 protein. A number of clinical trials are ongoing in AML across adult and pediatric indications for newly diagnosed and relapsed disease, with Agios hoping to replicate their IDH2 success with this related subgroup.
BCL-2 and IDH2 Mutations could be Synthetically Lethal
Another approach to AML treatment involves activating the intrinsic or mitochondrial pathway of apoptosis, which is regulated by the BCL-2 protein family. This has led to research targeting this protein family, which has resulted in the development of ventoclax, a 'BH3-mimetic' and BCL-2 small molecule inhibitor, which has breakthrough therapy designation in AML.
In a clinical trial testing this agent, antileukemic activity was observed particularly in patients with IDH mutations, which suggest that BCL-2 could be a synthetic lethal partner for IDH2 mutated AML, which could lead to AML mutations being a biomarker for response and a guide to clinical combination therapies.
Resistance to FLT3 Inhibitors to be Overcome
Even though the first FLT3 inhibitor has only just been approved, we already need to think about resistance. It is well known that treatment resistance rapidly occurs, with acquired resistance mutations already identified. Newer inhibitors are in development with activity against FLT3-ITD as well as point mutations such as FLT3-D835 (e.g. crenolanib). A number of clinical trials are ongoing for this agent, including in AML.
Immunotherapy Research also Ongoing
Immunotherapy approvals are coming thick and fast in oncology, and include gemtuzumab ozogamicin for AML as detailed above. Other antibody approaches which have proved successful in ALL are lagging behind in AML, where it is more difficult to choose an appropriate target antigen from the more ubiquitous expression pattern overlapping with healthy hematopoiesis.
Lichtenegger et al, cover the recent developments and current status of the 5 most promising immunotherapy concepts in AML:
antibody-drug conjugates such as gemtuzumab ozogamicin
T cell-recruiting antibody constructs
CAR T therapy
checkpoint inhibitors
dendritic cell vaccination
and review which agents are likely to join the targeted agents above battling to be the next new drug approved in AML.