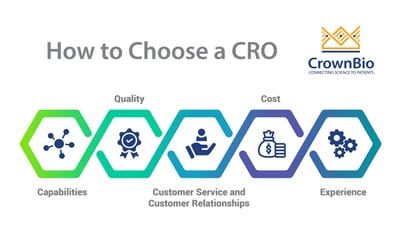 Contract research organizations (CROs) vary in capability, quality, experience, cost, and ease of collaboration. Weigh these five criteria to determine if a CRO is a good fit for your specific project.
Choosing a Contract Research Organization
Now more than ever, pharma companies are required to do more with fewer internal resources and in less time. Outsourcing certain functions to specialized CROs helps pharma researchers stretch their resources and provides biotech start-ups with access to otherwise capital-intensive capabilities.
You need to apply the same diligence in choosing a CRO that you would in choosing a new employee. This includes considering if they'll make the right contribution and if the CRO is a "good fit". Here are the five criteria to consider when determining which is the best CRO for your research programs.
What are the Contract Research Organizations Capabilities?
Does the CRO provide the service you need?
This seems like a basic question, but many companies overlook it. You need to ensure that the CRO is capable of meeting the technical demands of your study, and that their methods are validated. Validation needs to go beyond "we've done this type of study once and it looked good".
Also make sure that the capabilities at one site are identical to the other sites that offer it. This tells you about how the CRO cross-fosters best practices.
What is the CRO's QA Process?
While you may find a few CROs with the right capabilities, they may not all produce high quality work. Any data you get from a CRO should be the same high quality that you would expect from in-house studies
Make sure that the CRO has a process that provides quality assurance (QA) and monitoring, and that it's directly linked to compliance with regulations. Review the quality certificates that the CRO claims to hold, and review their processes.
If a CRO does not have a QA management system in place, ask why, and also potentially think about choosing a different vendor who does have a reliable and practiced system.
How Much Experience Does the CRO Have?
With quality comes experience. Not the other way around. Just because a team of experienced staff technicians will be running your ELISA does not mean it will be high-quality. You should always insist on seeing the credentials of the project team being proposed to ensure they have experience in your therapeutic area and have run the study type you need multiple (successful) times.
Also, never hesitate to ask for a client reference list. It should raise a red flag if any CRO tells you their references are confidential. A CRO with an excellent reputation will always be happy to provide at least one or two references.
How Much Does Contract Research Outsourcing Cost?
Have you ever calculated how much your company saves per hour by utilizing a fee-for-service organization? The savings can be enormous. But buyer beware: The saying "You get what you pay for" is often true when choosing a CRO.
When comparing different quotes/bids, be aware of unit costs/line items and not just total cost. While low-cost proposals are often attractive, it may not account for all study specifications and may lead to higher unexpected costs down the road.
Flexible payments built on milestones may also be important. For instance, imagine you're running a twenty-week efficacy study in a very expensive rat model but early data is disappointing. Do you have to pay for the entire study if you choose to end it at 10 weeks? For cases like these, the devil is in the details and you should be sure to build in such milestones should your studies warrant them.
Does the CRO Communicate and Maintain Relationships Well?
These two factors are interrelated and equally important. All operations within the CRO, whether procurement, business development or research operations, should be transparent and linked with each other, preventing duplicate activities and miscommunications. This avoids study meetings where CRO team members don't know key study points.
Teams change, and people leave positions; however, if your study is or will be impacted by the change in staff or technicians, you may want to reconsider the relationship. Consistency is a very good thing for a CRO/client relationship and successful study outcomes.
Summary
These are just a few of the things to consider when choosing a "good fit" CRO. Every need is different and these guiding five criteria will go a long way toward narrowing your search down to two or three finalists. You then need to exercise care and attention in your final selection and not just take the lowest bid -- paying a little more for the service, quality, and experience you need is often the way to go.