The Latest Developments on PARP Inhibitors for Prostate Cancer Treatment
by Rekha Pal, PhD, December 3, 2020 at 01:00 PM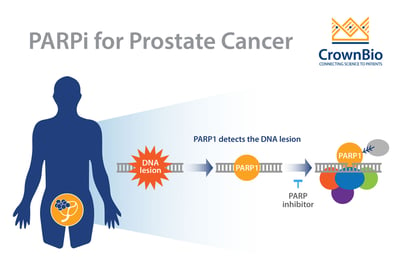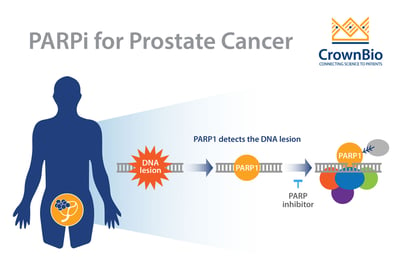 Review the status of PARP inhibitors (PARPi) for prostate cancer treatment, with a focus on recent developments in drug approvals and published data.
Rationale for PARP Inhibitors (PARPi) in Prostate Cancer
Prostate cancer is a clinically heterogeneous disease that is often driven by specific genomic alterations. Defects in DNA repair/DNA-damage response (DDR) pathways appear to be critical for increasing the risk of malignant transformation of the prostate. The enzymes PARP (poly (adenosine diphosphate [ADP]-ribose) polymerase), BRCA 1/2 (BReast CAncer gene 1 and 2), and ATM (Ataxia-Telangiesctasia Mutated) all play important roles in the malignant transformation of prostate cells.
Drug developers are taking advantage of the concept of synthetic lethality to bring new drugs to prostate cancer patients. Synthetic lethality entails the simultaneous disruption of two genes, typically in the same pathway, which results in cellular death. This concept also works between genes and drugs, where one gene is inactivated by mutation and the other is inactivated by a drug. This approach has been successfully exploited in tumors harboring DDR defects, and this is the rationale behind the use of PARPi for prostate cancers with DDR defects.
Two Recent FDA PARPi Approvals for Prostate Cancer
Early in 2020, the FDA approved two PARPi for the treatment of prostate cancer—rucaparib (Rubraca®) and olaparib (Lynparza®)—both of which were shown to delay cancer progression in men with metastatic castration-resistant prostate cancer (mCRPC).

Rucaparib, which gained accelerated approval, was the first of the two PARPi approved and is indicated for the treatment of adult patients with mCRPC who have a deleterious BRCA mutation (germline and/or somatic) and were previously treated with androgen receptor-directed therapy and a taxane-based chemotherapy. The approval for rucaparib was supported by a multicenter, single arm trial known as "TRITON2" which enrolled patients with mCRPC and a deleterious BRCA mutation. The study reported a 44% overall response rate (which was similar for patients with germline or somatic BRCA mutations), and a 55% prostate-specific antigen (PSA) response rate that was higher in patients with a BRCA2 alteration.

Shortly after the rucapaib approval, the FDA announced the approval of olaparib based on data from the PROfound clinical trial which evaluated olaparib versus Xtandi (enzalutamide) or Zytiga (abiraterone) in men with mCRPC who had progressed on prior treatment and had a qualifying genetic mutation in at least one of fifteen prespecified genes involved in the homologous recombination DNA repair pathway (e.g. BRCA1/2, ATM and CDK12). The study showed that olaparib delayed cancer progression in comparison to the control therapies in patients with BRCA1/2 or ATM gene mutations.

>
DRUG
FDA APPROVAL DATA
APPROVED INDICATION
BIOMARKERS
Rucaparib
Clovis Oncology
May 15, 2020
Adult patients with a deleterious BRCA mutation (germline and/or somatic)-associated mCRPC who have been treated with androgen receptor-directed therapy and a taxane-based chemotherapy.
BRCA1, BRCA2 (germline or somatic)
Olaparib
AstraZeneca
May 19, 2020
Adult patients with deleterious or suspected deleterious germline or somatic HRR gene-mutated mCRPC, who have progressed following prior treatment with enzalutamide or abiraterone.
Germline mutation in BRCA1 or BRCA2 or
somatic mutation in: 
ATM, BRCA1, BRCA2, BARD1, BRIP1, CDK12, CHEK2, CHEK2, FANCL, PALB2, RAD51B, RAD51C, RAD51D, RAD54L

Recent Developments in PARPi for Prostate Cancer
As a follow-up to the initial PROfound trial results discussed above, a survival analysis published in September (2020) showed that the delay in cancer progression was associated with a significant increase in overall survival in mCRPC patients who had tumors with at least one alteration in BRCA1, BRCA2, or ATM. Therefore, the PROfound study showed that olaparib not only reduces the risk of disease progression, but also extends survival.
These findings may alter the treatment paradigm for patients with mCRPC who can be stratified based on their BRCA1, BRCA2 or ATM status. Overall, this precision medicine study solidifies the view that stratification of patients based on validated biomarkers can deliver remarkable results for patients.
Ongoing PARPi Clinical Trials in Prostate Cancer
Clinical trials of PARPi in mCRPC are ongoing and include the following:
Challenges with PARPi for the Treatment of Prostate Cancer
Even with the current approvals, there are several challenges that must be overcome to enable the optimal use of PARPi in mCRPC. These include:
Resolving concerns related to the diagnostic test(s) for detecting HRR gene defects.


Developing a better understanding of the efficacy of different PARPi in relation to specific mutations, which will enable PARPi to be better targeted to specific patient populations.


Developing a better understanding of differences in germline versus somatic mutations in the context of PARPi.


Developing a better understanding of acquired resistance to PARPi and exploring other non-PARPi treatment strategies.


Establishing the rationale for when PARPi should be used as a monotherapy versus in combination with other drugs.
Conclusion
PARP inhibitors are exciting and novel precision therapeutics for prostate cancer, that have recently achieved two FDA approvals for the mCRPC indication. The benefits of PARPi in mCRPC is becoming increasingly clear with the recent additional data, but there remain several challenges which need to be overcome to maximize the right patient receiving the right PARPi based on their specific genomic profile.

---
Author
---