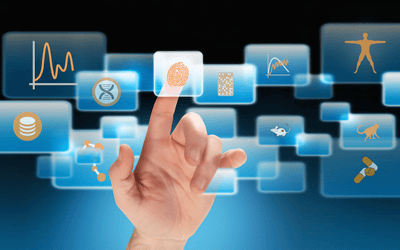 Crown Bioscience attended the 105th Annual Meeting of the American Association for Cancer Research in San Diego last month, the theme of which was Harnessing Breakthroughs – Targeting Cures. As well as presenting 8 scientific posters on recent Crown Bioscience advances and manning a booth (both of which incorporated the latest Layar technology), Crown Bioscience also reviewed the rest of the research on display at the conference.
The "NextGen Stars" Initiative
An exciting addition to this year's meeting was the "NextGen Stars" initiative, which is designed to find the young investigators who are continuing to drive forward progress in cancer research. From over 100 applications, five outstanding young scientists were selected to present their research. One stand out presentation for Crown Bioscience was the work of Dr Andrea Bertotti from the University of Turin, who talked about his work on improving the treatment efficacy of targeted therapies in metastatic colorectal cancer (mCRC), a disease with poor 5-year survival rates and a high unmet need for improved therapies. Dr Bertotti concentrated this research on a subset of tumors with wild‑type KRAS that only partially respond to the commonly used targeted therapy cetuximab (an EGFR inhibitor). Stable disease is usually exhibited in this tumor type following treatment with cetuximab; however, regression of the disease is not seen. As this subset accounts for approximately one‑third of all KRAS wild‑type tumors it represents a significant opportunity for improved efficacy of targeted therapy in mCRC.
In an approach that mirrors Crown Bioscience research techniques, Dr Bertotti hypothesized that optimizing drug combination protocols could result in a significant improvement in therapeutic efficacy. To tackle the issue, Dr Bertotti and colleagues established approximately 400 mCRC tumor specimens directly transplanted in to mice and grown as xenografts (commonly known as patient‑derived xenografts or PDX models), recognizing that these models are far more physiologically relevant than utilizing cell lines. The models were fully validated to show that they had both a similar response to cetuximab as their patient counterparts, and that this matched up to specific validated predictive biomarkers e.g. KRAS.
Utilizing the PDX models to explore multiple exploratory hypotheses, Dr Bertotti looked to identify if the response to cetuximab could be complemented by inhibiting other members of the HER family (which has shown to be successful with dual inhibition of HER2 and EGFR in certain breast cancer types), or if perhaps cetuximab was not fully inhibiting EGFR when used alone. The study results showed that stable disease in 18 models treated with cetuximab alone could be converted into tumor regression in over one-quarter of cases via treatment with combined cetuximab and lapatinib (which targets both EGFR and HER2). However, a similar response was also observed following combination therapy with cetuximab and erlotinib (which targets EGFR only). This suggests that inhibiting HER2 in this setting is not of major importance, and that the roles of both lapatinib and erlotinib are to synergize with cetuximab to fully block EGFR function in these tumors.
If clinically validated, this could result in a significant therapeutic advance for patients with this tumor type by using combination anti-EGFR therapies. Preliminary observations from this research suggested that high autocrine levels of specific EGFR ligands could distinguish this subpopulation for treatment.
Finding out that HER2 does not play a major role in this setting is also important. Using pre-clinical experiments to rule out combination therapies that will not show efficacy in patients should reduce the attrition rate of drugs and therapeutic regimens entering late stage clinical trials. This will save pharmaceutical companies and researchers valuable time and resources, and hopefully speed up new and improved therapies reaching patients. Dr Bertotti's team also showed that up to 20-25% of KRAS wild-type tumors overexpressing IGF2 could be sensitive to combined inhibition of EGFR and IGF1R, and focusing on this and dual EGFR inhibition will hopefully yield the most positive clinical trial results in this tumor type in the future.
Crown Bioscience are delighted to see that the next generation of cancer researchers are moving forward their research using PDX models, and that the AACR are recognizing the value of these techniques. Crown Bioscience has been at the forefront of PDX research since 2006, and has the world's largest commercial collection of well-characterized PDX models (HuPrime®), many of which are in constant passage. Crown Bioscience also has the operational capacity to perform large numbers of Preclinical Phase II-like trials - HuTrials™ to discover biomarkers, identify patient responder and non-responder profiles, and accelerate drug development of new therapeutic candidates or combination regimens.
Contact us today at busdev@crownbio.com to discover more about the next generation of technologies transforming drug discovery today.
---
Author
---